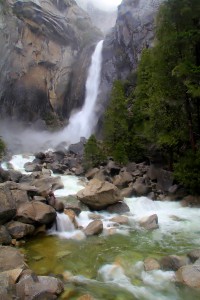 So this last week Mile Long Legs and myself decided to go for a kick-ass camping excursion northbound to Yosemite National Park. We'd both been once before and fell in love with the place, what with its towering granite cliffs, exotic waterfalls and challenging hikes. We thought that heading to the park earlier in the season would bring us even MORE beauty then we'd experienced before. Well, we were in for serious curve balls.
We got to the park around 1 or 2 on Tuesday afternoon after a 5 hour drive from LA. Getting from the park entrance to Yosemite Valley – where we had a site reservation at the Upper Pines campground – takes about an hour of uphill curvy road navigation. I'm fuckin skilled with curvy driving but when the weather quickly started turning south, I relaxed and took it nice and easy. By the time we were near the 6000+ high elevation of the Glacier Peak turn-off, snow was stacked a few feet deep on the sides of the road. We knew the snowpack was HUGE this year, but to be this thick in late May is amazing! The waterfalls were going to be CRAZY flooded! YES!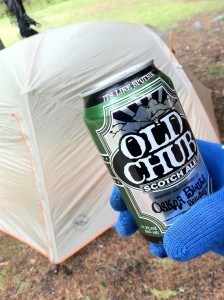 We pulled in to our campsite not much later and began setting up our new home in the drizzling rain. We were gifted some awesome camping equipment from Gearist.com including a Big Agnes Copper Spur UL3 person tent, their Lone Ranger 15˚ 650 down sleeping bag, and an auto-inflating air pad (full reviews on these products later) which set-up lickety-split! There was nothing mother nature could throw at us now. We were fucking camping in Yosemite! BEER TIME!
A number of beers and Bailey's & Cocoas later, we opted to hit the hay and get out of the rain for the night. A big few days of hiking awaited us. While I laid in the tent trying to sleep, I kept getting waves of dizziness and disorientation. This was followed by horrible anxiety attacks. My heart would start to race and my mind would start to worry. My first instinct was altitude sickness, but having been to Yosemite before and not having had a problem, panic continued to seep in. After trying unsuccessfully to find some sort of medical staff at the local hotel, I opted to take a mental chill pill and see if I could regain my composure in my car with the heater on. If it wasn't for Mile Long Legs, I dunno what I would have done. She got me back to the tent safely where I slept off the rest of the night soundly.
My only explanation for the dizziness was in fact mild altitude sickness. I got it when I visited Estes Park, CO. for my sister's wedding, but that was double the altitude, and the symptoms were still fairly minor and common. Can cold weather or different pressure systems have any influence on altitude sickness? I'm curious because I want to be able to camp in Yosemite much much more and not have to run into issues like these! Ginger no happy.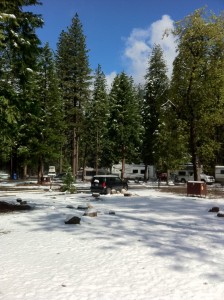 When I awoke the next morning in the tent, it took me a few moments to take in my surroundings as they had changed shape. The tent was no longer in the same form as it was when we went to sleep. The roof seemed misaligned and cratered. My first thought was a bear had pawed at us in the night and we were lucky to be alive. Then I realized that there were 'thudding' noises coming from outside – like clumps of snow falling from trees. Yes, that's it! SNOW. It had snowed a good 5 inches since we passed out around 2-3am. We unzipped the tent and our jaws dropped. Yosemite was covered in snow. And it was beautiful.
We quickly concocted a camping breakfast of shake-n-griddle pancakes, hashbrowns, and more coffee & Bailey's. We filled our hydration packs and ventured to one of our favorite hikes. We knew that with the snow, we'd be facing some serious dangers on the slippery granite rocks so we stuck to a trail that would for sure be heavily treaded. We opted for the Mist Trail to Vernal Falls.
It was a smart choice as it was nearly clear of all snow by this point in the morning. Despite that, we both began to feel the weight of altitude sickness the higher we got towards the falls. Having both been to the base of Half Dome the fall prior, only getting as high as Vernal Falls just tore at our Yosemite disappointment. We wanted so badly to go higher, but knew lightheadedness and dizziness are symptoms that if ignored, can lead to very dangerous situations; especially on such uneven, snowy surfaces.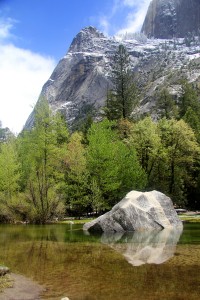 We hiked back down, took a couple mile detour to beautiful Mirror Lake (by this point the snow had completely melted off and the sun began to shine) then set our destination on camp. Once we returned to our tent, the rain had started up again and the weight of this trip began to trickle in. We could either stay at this altitude, in the rain and snow, cold, and sick or we could trek back to LA and begin planning our next Yosemite attack in the fall. We opted for the latter.
Not judging our decision in the slightest, we packed up camp, headed back out of the valley, and on to calmer, lower waters. While I can't fight off the feeling I should have stuck it out longer, I know we made the right decision. We were well prepared physically having just come off races; we were well prepared technically with gear and skill; but I wasn't prepared vertically with my soft susceptible ginger lungs.
I can't wait to get my tent, sleeping bag, and air mattress all packed up and ready for my next Yosemite adventure. While this trek left me breathless – literally – it just made me want it that much harder next time. See, I don't necessarily think it matters how long you stay in the park. Yosemite is so damn beautiful at all times that it just bates you, waiting for you to come back for more. Next time I'll be FULLY prepared. Also, with more beer.