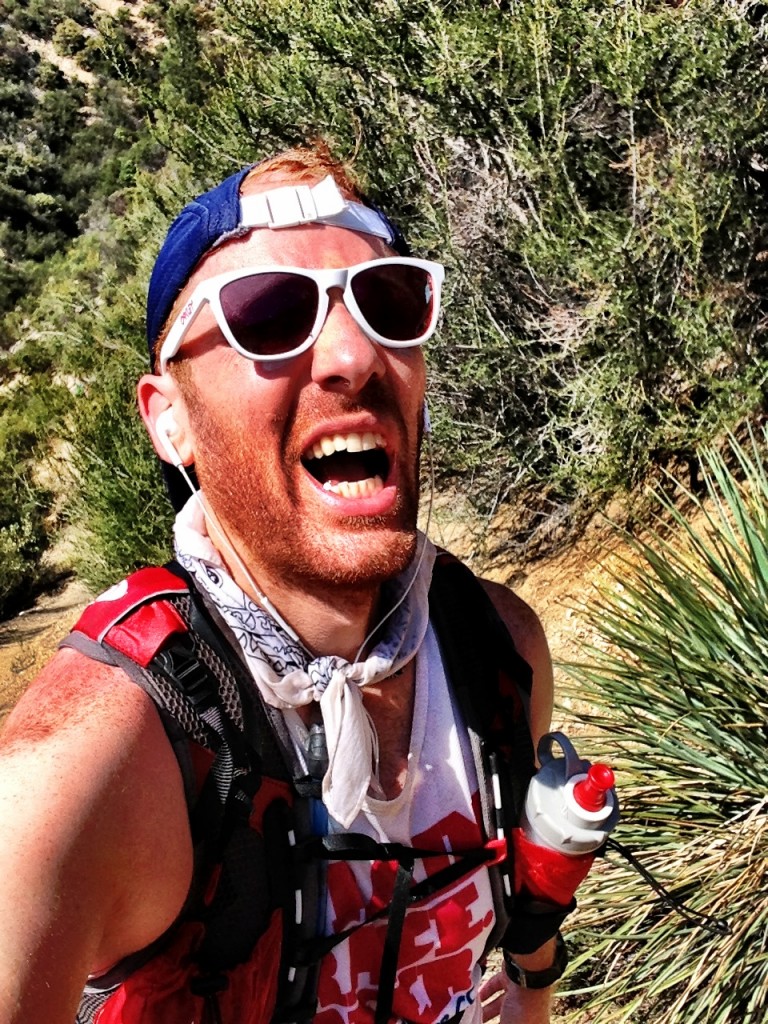 Let's be honest, I'm a gear nerd. I love trying new stuff, reviewing it, and sharing my experiences with you. I remember when I started running I was always asking the question, "What gear would be good for what situation?" and what's funny is I'm getting that question a LOT from a lot of you! Now that I've trained and race in all sorts of conditions and distances, I'm getting more confident in my decisions (that doesn't mean I'm immune to making mistakes) and want to share them. When I was writing my Leona Divide 50 Miler race recap, I thought it'd be good to write a separate blog highlighting each item I chose to wear or bring with me – for better or for worse – just so you could learn from my decisions. I'll go from top to bottom.
HAT
I have visors, flex fits, running caps, bike caps, beenies, trucker hats and bandanas. What the hell was I going to wear? Well, with the heat and sun, I knew I'd want to protect my scalp, so I opted out of the visors (my scalp inevitably gets sunburned on the longer trail runs). The next choice was between a Outdoor Research short-brimmed cap or a Headsweats running cap. I chose the latter simply for more sun protection over my eyes (when hat is forward) or back of my neck (when hat is backwards). Added bonus would be the full-coverage hats could be stuffed with ice and let to melt over the course of the 5-7 miles between aid stations. I win.
SUNGLASSES
I love my Oakley Frogskins. These things have been through EVERYTHING over the last few years. They are extremely light, provide ample brightness protection and I can swap the lenses whenever I need. Also, I'm the only guy that I've seen sporting them out there on the trails and I like that. DON'T COPY ME!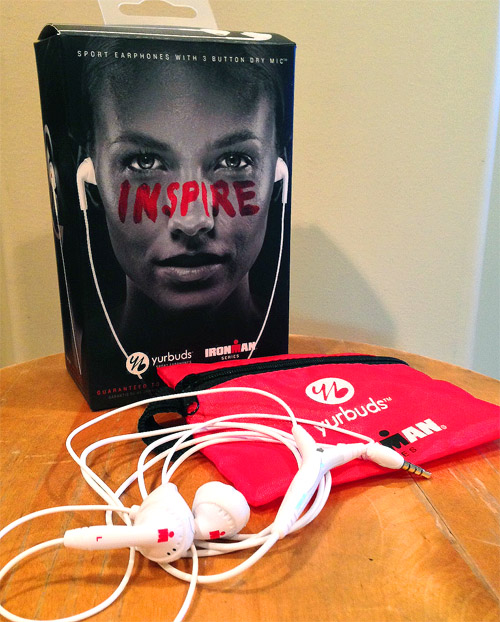 HEADPHONES
I knew I wanted to bring my iPod shuffle crammed full of music seeing as I was planning on a long long day out there on the trails. Normally, I just rock my regular iPhone ear pods with Yurbud silicon covers (I feel like I'm the only weirdo who's ears and Apple earbuds DO NOT MIX), but the fine folks over at Yurbuds contacted me and sent me a pair of their Inspire Pro headphones in exchange for a review. I was pretty excited to try out a set of sport-specific headphones and quickly obliged. Over the last few weeks, I wore these suckers a few times and really tried to like them but they have one fatal flaw: they are a noisy pair of headphones. I'm not talking about sound quality (of which they excel over many other pairs I've tried – including the call feature) or noise-leak (they allow just enough noise into your ear to allow you safe environmental awareness when the music is moderately loud). I'm talking specifically about the manufacturing of the plastic coated cords that run up into the buds themselves. That point of connection is so loose and loud when running that all I hear is the clicking of the plastic cord hitting the plastic bud stem. It's pretty aggravating and seemingly impossible to UNhear. They do offer new models that have cords made of cloth which I imagine would fix this issue, but they wouldn't let me review a pair. However, by simply repurposing the silicon covers I received on the Inspire Pros, I feel like my iPhone headphones have a new life and are now my go-to pair.
The Yurbud Inspire Pros are $59.99 / pair which makes these a very expensive item. Rather than buying the full set of headphones, I'd recommend going with their silicon covers, sliding them onto buds you already own and enjoying your new awesome set of snug-fitting running headphones. Seriously, I've run all sorts of crazy distances, races, and in various conditions without an issue of the headphones coming loose. The silicon covers stretch out over time, but with a lifetime guarantee, Yurbud will happily replace a pair (as they did right before the 2012 SF Marathon when my covers would barely stay on the buds).
BANDANA
I wrapped a simple and cheap bandana around my neck per Jimmy Dean Freeman's hot-weather advice. I sure am glad I did. I was able to dip this thing in ice cold water at every aid station and even wrap ice cubes up inside of it every 5-7 miles. That layer of cold would last for an hour on the back of my neck and I can almost guarantee contributed to keeping my core temp cool throughout the hot day. It was indispensable and an awesome last minute addition.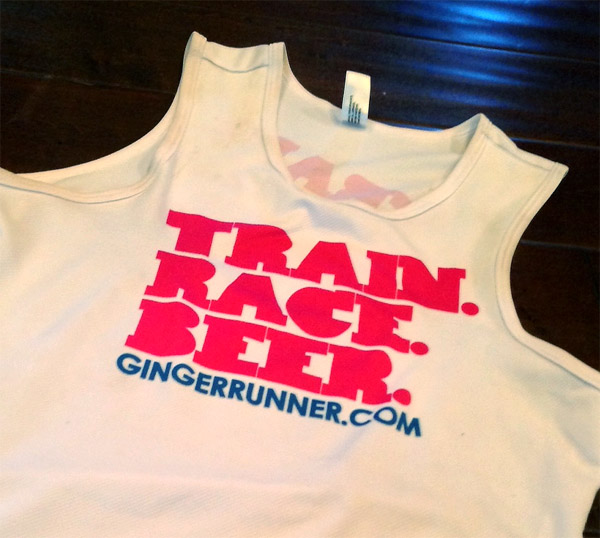 TOP
As I do with any race, I love rocking one of my "Train. Race. Beer." tops. I have both singlets and a long-sleeve race fabric top. For this race, I knew it was going to get very hot, so I was debating between my white singlet and my long sleeve. The singlet would allow more skin to sweat freely and possibly keep me cooler. The long sleeve would keep my skin from having to be covered in pore-clogging sun screen and sweat freely (if not more). I opted for the singlet just so I could manage my core temperature better and keep an eye on my glisteny-skin sweat levels. I will play more with the long sleeve in heat just to see if my body could even take it. I'm sure dumping water on it at every aid station could have kept my extremities cool.
HYDRATION PACK/NUTRITION
Now this is the item that I will debate using again, not because it didn't work (it worked flawlessly as usual), but because I see so many Ultra runners these days running sans-pack and with two handhelds and it's made me think about how much I really need to carry come race-day. When I run long training runs, I always like to rock my Salomon XA Skin Pro 10+3 hydration pack. I fill it with a few litres of water, an Ultimate Direction water bottle up front in one pocket, GU gels, chomps, Enduralytes and Pure Energy pouches in the other. I'll also pack ginger chews, a small camping roll of toilet paper (you never know!), a headlamp, and extra liquid nutrition packets or ziplocs in the back pocket. I like to weigh it down with as much as possible so come raceday I'm amply prepared for the weight on my back.
For this race, I wasn't confident with the two hand-held approach (still need to train quite a bit with this and nail down what sort of liquid nutrition I can use/works) so I opted to wear the pack again. I wanted to carry everything I'd need just in case I was between aid stations and had specific fuel/emergency requirements. This is probably a rookie decision every ultra runner makes so why not me? I filled it up with water, had a bottle upfront for liquid nutrition, and carried almost every piece of nutrition I thought I might be able to stomach. In the end, I used a few GU gels and chomps early on, then switched to liquid nutrition (Hammer Perpetuem and Sustained Energy) for the last 20 miles with a lot of help from aid station potatoes and chips. My pack was still weighed down considerably by unused GUs, Chomps and Pure Energy pouches by the time I finished. I have to work this out in the next few months to gauge my adaptability to multiple handhelds. I'm also looking into the Ultimate Direction AK race vest.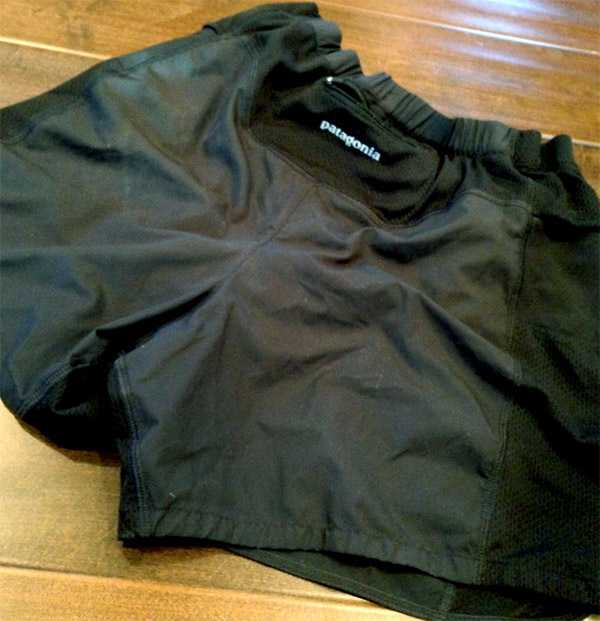 BOTTOMS
I had recently purchased the Patagonia Strider Pro shorts from REI and had a few runs in them. I LOVED them almost immediately and thought they'd make a perfect pair of race shorts. I was right. These things are awesome and I've already filmed my review for them. They are a light, secure, well-pocketed pair of shorts that are great for any run. I WANT MORE!
SOCKS
I went with my trusty Injinji compression socks. You've already seen my review and know how much I swear by them and running 50 miles in them proved they work. No blisters. I did have some pain on the bottom of my feet from where the compression in the foot portion squeezed my sweaty and swollen feet over 50 miles. That additional skin-tightness mixed with the occasional sand and grit that snuck into my shoes caused for some painful forefoot pads for a few days. In the future, I might opt to the trail or midweight version of Injinjis that I'm used to.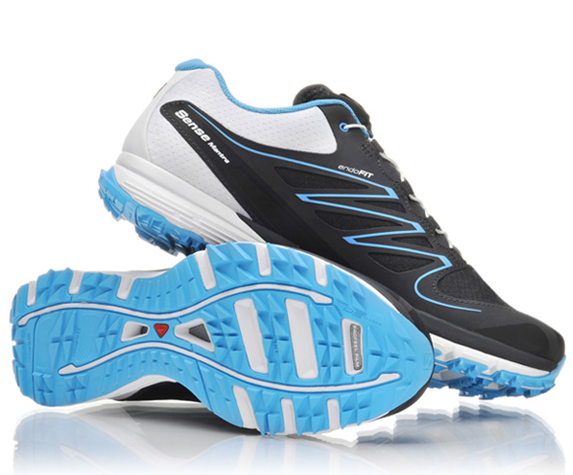 SHOES
So this has been the biggest question I've been asked since running. I had some choices for this race, so I wanted to be smart. I've been running in my new pair of Brooks Pure Grits, my Pearl Izumi Trail N1s and Salomon Sense Mantras and Sense Ultras. I love the Grits, but thought the traction might be an issue on the sand and loose dirt technical sections of this run. I figured I'd use them as my drop-bag backups for when I needed more late-race cushioning. I didn't have more than 18 miles in the Trail N1s, and despite loving them, I thought it would be safer to trust something I'd had more trail time with. I feared the Sense Ultras would be just too minimal for me for such long mileage and I hadn't given myself ample time in the lightly cushioned shoe. However, I had my fair share of comfortable miles in the Salomon Sense Mantras and ultimately decided they would be the shoe for the race.
A few weeks earlier, I had a GREAT 24 miler in them that proved they could comfortably go the distance for me. That run is what helped me make my last minute decision. I wasn't disappointed. They were awesome. Around mile 38 I really started to have forefoot pain, but I chalked it up to the mileage, long day on the feet and the invasive sand/grit. Overall they rocked and surprised me with awesome.
So that's it! If you guys ever have any questions about what I wear for races or training runs or need any advice, don't hesitate to contact me on Twitter, Facebook, or here on my site. I want to empower you guys to run harder and farther, so I'm always happy to provide advice where I can! Thanks for reading!
Tags: best, camelback, camelpack, compression, custom gear, ethan newberry, ginger runner, gingerrunner, half, hat, headsweats, hydration, injinji, leona divide, marathon, pack, patagonia, patagonia strider pro, review, run, running, s-lab, salomon, sense mantra, sense ultra, singlet, the ginger, trail, train race beer, ultra, ultramarathon, viser, visor, wear, what I wore, worst, xa skin pro 10+3