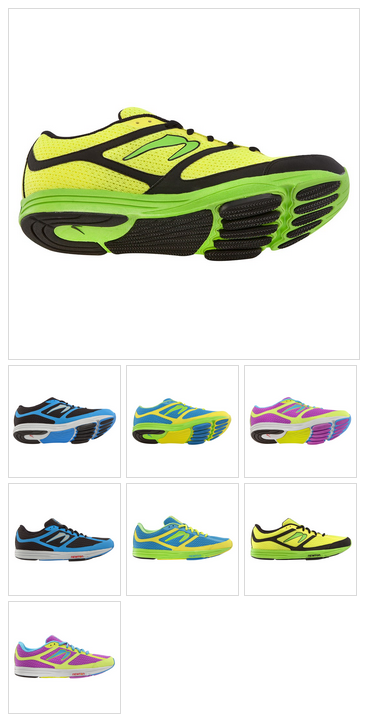 Well, the announcement just came through my inbox and I have verified that it's true, Newton has announced a new shoe to their line-up due July 17th. They are calling it the Newton EnergyNR. Well, I can say without a doubt that these excite me. I'm only going off of the small press shots that they've included, but the shoes have the 5 lugs I'm familiar with on the MV2 (and that I like), they also seem to split the lugs up a bit so parts lay just under the metatarsals as well as under the toe-tips. The midsole looks to be a flat section of outsole rubber which will hopefully aid in transitioning the stride into the lugs. Now, the press release refers to these shoes as a way to get the "Newton experience to a broader group of runners…", meaning they may be more of a transition shoe rather than an outright Distance or Gravity replacer. I for one welcome the new shoe to the line-up and cannot wait to try a pair on.
They're not as light as Newton's other offerings (Energy NR is to ring in around 9oz), but they aren't being marketed as their new racing flat. The heal to toe drop is 6mm (with EVA Sock Liner) and 3-4mm without. So it's a bit more than a die-hard Newtonian would hope, but remember, this is a transition shoe for those joining the ranks. The midsole reminds me a bit of the new Pearl Izumi E-Motion line (which I like) so, again, can't wait to peep these in person. I'm mixed on the color combos – the greyish midsole looks unexciting – but the yellow black and green ones are encouraging for us dudes. What are YOUR thoughts? Here's the full PR story:
The Energy facilitates seamless transition from conventional shoes to the Newton experience.

APRIL 4, 2013—Newton Running, the leader in performance running shoes that actively support and strengthen natural running motion, is launching the EnergyNR, available at running-specialty retailers and NewtonRunning.com starting July 17. Designed to meet the needs of runners who want to experience the unique technology platform and ride found only in Newton running shoes, the $119 EnergyNR facilitates a seamless transition from more conventional running shoe brands into the Newton line.

"Our goal is always to look for ways to expand the Newton experience to a broader group of runners and the EnergyNR is an addition to our line that offers similar features and ride to all of our products but in a more conventional design package," says Newton Running co-founder Danny Abshire. "Runners who are new to the brand as well as loyal Newtonites will truly enjoy the lightweight and responsive ride that theEnergyNR offers."

The EnergyNR includes a version of Newton's Action/ReactionTMtechnology in the forefoot. Originally offered in Newton's MV2 racing shoes, the more streamlined design employs five low-profile forefoot lugs to provide superior impact-zone cushioning and a smooth, stable ride. The lightweight, breathable mesh upper has a roomy toebox that provides ample room for toes to splay, while midfoot overlays ensure a secure fit.

The EnergyNR weighs just 9 oz for men and 7 oz for women. It is available in two colors for each men women and will be available at specialty retailers and www.newtonrunning.com starting July 17, 2013.
Tags: best, distance, energy, ethan newberry, ginger runner, gravity, lugs, minimal, new shoes, newton, newton energy nr, nr, review, sir isaac, the ginger runner, transition, worst