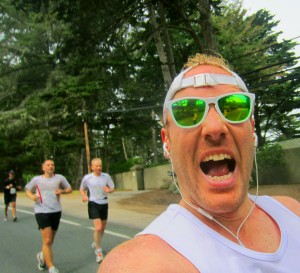 Yes, I know. I'm late to the pony race and am just now posting my 2012 "year in review" blog. I could give you the excuse that I've been crazy busy filming commercials, travelling through mountains, training, racing, working the world's biggest electronics show (CES), and am prepping to head off to Sundance as a result of a short I made, but that'd be the easy way out. Instead, I'll be honest and tell you that I didn't consider last year full of accomplishments when it came to my running. However, after reading so many other runner's annual recaps, I realized accomplishments don't always have to be in the form of PRs, podium finishes or medals. They can be personal goals achieved, memorable moments I value, and the creation of new goals for this year. So here we go, here's a list of moments from 2012 that I value! Warning: in honor of this being my first blog of 2013, I may be drunk.
Vancouver First-Half Half: This was my frist race of the year as well as my current personal best in the half marathon (it was also the last road half marathon I've run since). I went into this race moderately trained and was looking towards the LA Marathon a few months later. I took it fairly easy, wanted to fall into a moderate pace, and finished strong. Vancouver is such a gorgeous city and I LOVE running around the Stanley Park Seawall whenever I can. In this case, the race has full access to the amazing path. Boom, beautiful first race of the year.
The LA Marathon: I value this race as being the worst race of the year. People always talk about learning from their mistakes, and this race is no exception. Check out my race recap to see what all went down, but just know this race changed how I approached marathons for the rest of the year.
Big Sur Marathon: This is probably my favorite marathon I have ever run. While I was pretty nervous going into it due to its difficulty and coming off the LA mary failure, I was with my best friends in one of the most beautiful places in the U.S.  Can't beat that! I took this race easy, enjoyed the whole journey, and drank plenty of delicious beer at the finish. It was also my girlfriend (Mile Long Legs) and best friend's (Justin) first full marathon so I'm pretty sure it went into the record books for us all.
The STP: The Seattle To Portland double century was my first endurance bike race since I was 18. I will always remember this day, 204+ miles ridden in less than 12 hours with my nephew across some of the most scenic back roads of the PNW. I went through some tough times during this race, but perseverance and the promise of food and booze at the finish kept me goin (I'm noticing a trend here…).
The Portland Marathon: My first marathon was the Portland Marathon, and this race marked my 10 year anniversary of that run. I had to put this one on the list as being one of my favorites in 2012. Perfect weather, great crowds, dope city. It was also the second full marathon for my GF and BF. It was also the VERY FIRST 10k MY PARENTS EVER FINISHED! I was so proud to see my parents take on something tough like a 10k and demolish it! I hope they keep it up!
Strava 50 miles in 1 week Challenge: This might not seem like a lot to some of you, but this might be the first time I can remember where I logged more than 50 miles of running in one week. Normally I bounce between 35-45 for marathons, but I wanted to take it one step further. What's crazy is that I felt pretty good all week with very little lethargy. Now I need to see if I can push this even FURTHER!
The North Face 50k: This was my first Ultra and easily the most memorable race I've had to date. Crazy weather, insane mud and terrain, and a last minute course change made for quite the experience. While it wasn't a full 50k in the end, it is still the furthest I've ever run. I'd be lying if I said I didn't tear up the second I passed the 26.2 mile mark. I also hope this race is the first of many more ultra finishes!
UltraMagazine: While I found out about this moment in 2013, I still chalk it up to being a 2012 memory. A fellow Ultra running Angelino (LARunr) subscribes to Ultra Magazine and found this fun picture of me from running the North Face 50k in early December. Pretty cool that my first Ultra turned out to also be my first published race photo!
Now moving forward I have a couple of goals for 2013.
I want to complete my first (and second) 50 miler. I signed up for Leona Divide (WS100 qualifier!) and the Squamish 50 (CAN'T WAIT!). Needless to say I'm freaked out of my gourd, but will hopefully push through these bitches.
I want to show the LA Marathon who's boss. That fickle beast annihilated me last year. Now, as a more trained and polished marathoner, I hope to renegotiate the course and possibly PR (maybe a little too eager, but I still want to try!).
MORE VIDEOS!! I love making videos for y'all. I want to get up to doing 1 per week. Whether it's a review, a live stream chat, or a race recap video, I just want to fill up my GingerRunner YouTube channel with more gold!
San Francisco Double: This is a doozy, but I'm thinking about running the SF Marathon Double (marathon course backwards then forwards sequentially). When I saw Dean Karnazes do it at Big Sur, I added it to my list.
I want to MEET MORE OF YOU! Maybe run meet-ups around LA or your city. I think it would be cool to run with others that enjoy it as much as I do!
Brew More Beer: Umm, DUH!
Well, that's it! While I'm pretty sure there were plenty more memorable moments throughout the year, these were the stand-outs for me personally. I hope you all had a number of memorable moments as well. Please feel free to share some of them in the comments below! My ultimate goal with this list is to encourage myself to continue to make and find moments in this pursuit of running. While I'll never be the fastest or most elite runner, that doesn't discount the fact that I'm still having fun and enjoying every moment I'm out there running. I hope you are too. Now, go train. Go race. GO DRINK SOME BEER!
Tags: 2012, 2013, 50 miler, 50k, ethan newberry, gear, ginger, ginger runner, gingerrunner, goals, half, how to, list, los angeles marathon, marathon, north face, portland, race, races, review, run, runner, running, shoes, ultra, year in review