As we passed her, body slumped over, hands on knees, looking absolutely destitute, I put a hand on her shoulder and asked, "Are you ok? Do you need anything?" with a slight hint of concern. Her face turned to mine and her eyes revealed just how far down her own rabbit hole she had fallen. A quiet, polite voice slowly returned with, "Uhh, I'm ok. Thanks though." I held her space-gaze a moment longer in hopes her mind would reconsider my offer, but a slow, painful smile took over her face as to push me on my way. Within mere moments of passing on beyond her stationary struggle at mile 25 of the Squamish 50 mile ultra marathon, my new friend John and I heard the distant but distinct sound of a runner emptying the contents of her stomach into the soft mossy earth of the mountain we were struggling to apex.
She hadn't even gotten to the hardest part of the race.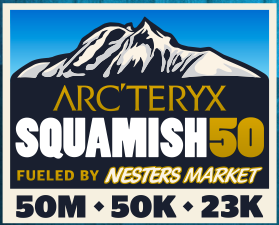 PROLOGUE
I remember reading, "The Squamish 50 Miler is NOT a beginner's race" many months ago. Guess what? They weren't lying. In fact, I would say, "The Squamish 50 Miler is for STUPID IDIOTS". Well, call the ginger a stupid idiot. Go ahead, do it. Hell, tweet me and tell me. But be aware that you're not telling me anything I don't already know.
The Squamish 50 is a cunning witch with mystical powers that seemingly blinds it's susceptible victims to it's venomous dangers. I must have been coaxed in by the incredible photographs, the remote locations, and the fact the finish-line is located at the foot of one of my favorite BC breweries (Howe Sound). But I'm already getting ahead of myself.
In early December of 2012, coming off of my very first 50k experience at The North Face 50k, I was surfing various blogs and reading up on cool Ultras to possibly jump on in 2013. I wanted to find the races that were not only tough challenges, but took me through some gorgeous scenery and vistas. I came across a race report from the inaugural Squamish 50 written by Ellie Greenwood. I'm fairly familiar with Vancouver, having not only spent quite a bit of time there, but having a significant other who calls it "home" helps. I know first hand just how gorgeous and lush the terrain is around the city and up near Whistler. Getting to experience running 50 miles of singletrack through the mountains of Squamish? Yes, sign me up! And within moments, I had put my name and money where my internet mouth was.
After I had been accepted by the RDs, Gary and Geoff (seriously guys, thank you and I hate you both!), I told MLL about the race. She promptly jumped into the 23k race they were also offering. We thought it would be an awesome destination race we'd share in her home mountains. We even opted to splurge on a fancy hotel suite to continue the romance off the trails (aka "get drunk in"). This race was going to be awesome and a highlight of our race calendar.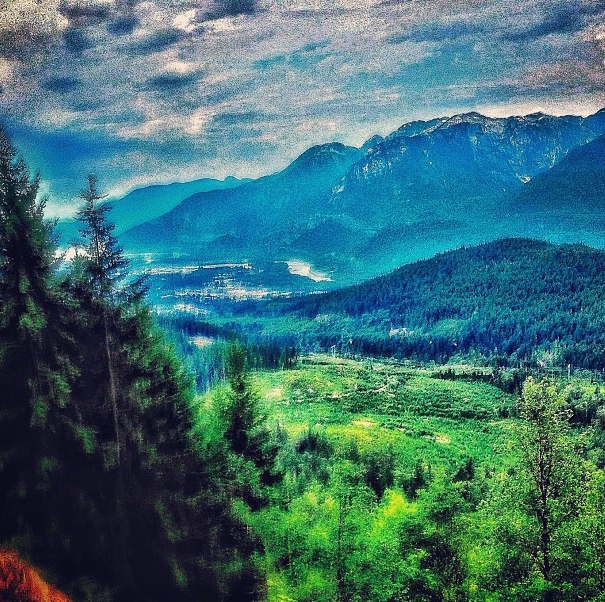 THE JOURNEY TO SQUAMISH
Well, as the year unfolded, I completed my second 50k and first 50 miler. Both races were fun – in retrospect – but also posed their own challenges. I knew Squamish was on it's way, but it was going to be a fucking bitch. Since signing up, not only had the RDs (we'll just call them Race Director Hell-Spawn-Pain-Makers from here on out) decided to add thousands of more feet of elevation (12k+), they also changed the course a bit to include a more challenging and quad rupturing final few miles (52+). Thanks, RDHSPMs. Furthermore, Mile Long Legs was going to be unable to join me for the race afterall! Not only was I walking into a shitstorm of ultra pain, but my expected rock – and only familiar face across the border – wasn't going to be joining me. Poop.
Well, as the race day approached, I was juggling the idea of staying in the comfortable bubble of Los Angeles and avoiding all of the commitment of running 50 miles over some of British Columbia's most technical singletrack. The thought of going to a foreign country, alone, without support or a clue of how to handle all of the international traveling boggled my fragile ginger mind. I asked every running friend I had if they would be willing to take the weekend to travel to Canada with me, but none were available. I didn't felt like I trained hard enough, on the right terrain, long enough, or with enough upness to justify running such a daunting race solo. To put it bluntly, I was scared shitless and was inches from throwing in the towel.
But I didn't. I couldn't handle the thought of letting myself down just because I didn't have someone to travel with or rely on for comfort and familiarity. I bought my ticket ($400+!! DAMN, I hate airlines!!) to Seattle. As for the drive across the border and into Squamish, I reached out to some fellow Instagram Ultra running afficianados, Joe & Bethany. I had heard they were driving up from Oregon to run the 50k & 23k, respectively, so I thought I might jump in their car and help pay the way. Seeing as I had never met them before, I figured they would either be the nicest ultra-couple I'd ever meet or they would slice me into pieces, boil me down, and eat me as running fuel. As much as I like a good human-soup, I'm thankful it was the former! With my travel plans now in place, I packed my bottles, nutrition, clothes, freshly delivered Salomon Mantras courtesy of RunningShoes.com, and all the additional comforts I thought I'd need along the way.

We met early on the Friday before the race, grabbed a delicious Seattle breakfast before heading northward into Canada. Seeing as it was both Joe and Bethany's first time crossing the Canadian border, I schooled the two on the proper technique for crossing the border efficiently and quickly. As we pulled up to the gate, we were greeted by a stern looking boarder guard, curious as to our origins, destinations and the various other standard questions. When we were asked what our business was in Canada, I quickly chimed in, "we're running an ultra marathon in Squamish". In a flash, I knew I had him as putty in my hand. His eyes turned quizzical, his head cocked to the side, it was obvious he was curious. "What does that mean?", he asked. "I'm running 50k, my fiance is running 23k, and he's running 50 miles…an Ultra is anything farther than a marathon", Joe quickly mentioned as though he was inside my mind-hole. The guard wasn't fully comprehending what that meant, took another moment to try and process the information, then spoke, "well, good luck with that!" and let us pass.
Now in Canada, our phones went off. This is always the first thing I do when I cross the border and it's both liberating and terrifying. I could only connect to wifi signals so communication to my home-world would be minimal. Bethany opted to activate an international plan just so we had one operating phone with maps and signal for emergencies. We quickly mapped out the directions to my rad friend, Dave's, running store (Distance Runwear) to pick-up last minute necessities then on to Vega HQ so Joe could touch base with his new team nutrition. We whipped up some delicious smoothies in their stellar company kitchen and ventured back out to the open road. As we drove along the Sea To Sky highway, the amazing views managed to keep my rising nerves at bay. Before we knew it, we were driving into Squamish.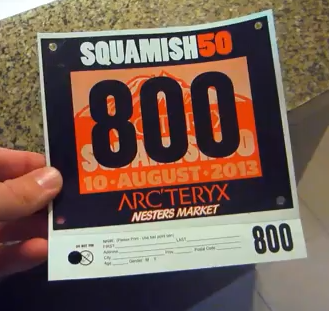 Our first stop was Joe & Bethany's "hotel". I put quotes on the term because while they made reservations months in advance, our arrival in the gravel parking lot was met with a sour looking macho-man-lady who informed us the house had been rented out to her father's logging company for the entire year. No rooms available. Thankfully, I had a nice romantic suite that would be wasted on a single, lonely ginger. I invited them to partake in the 'suite life' to which they promptly nodded and accepted. Way better than sleeping in the back of the jeep and I NOW HAD PEOPLE TO TALK TO!
We showed up at my hotel which was also the location for the Squamish50 bib pick-up. The process of filling out a medical form, grabbing our number, a tech shirt and a bus pass was easy and quick. I wanted to meet the RDHSPMs in person to not only shake their masochistic hands, but give them The Ginger Runner gift of Train.Race.Beer. pocket hats! When I finally cornered Gary, It looked like he had already been on the trails for hours. He was dirty, maybe even a bit bloody, and had the glow of pure bad-ass. I knew I was in the presence of a beast. I may have muttered a few stupid words of freshman ultra-blabber, but I did manage to hand off the hats and demonstrate how they work. I think he understood, though he may have just been polite. He gave me a great big grin, some laughs, patted my shoulder and wished me luck the next morning. And just like that, he disappeared in a poof of magical smoke and mystery. Well, he may have just turned around to deal with other pre-race prep, but it sure felt like magic.
After some food and a pre-race beer from Howe Sound, we opted to call it early and get some sleep. All 3 of our races had different start times, different start lines, and Joe was going to have to drive me to my 50m start line at 4:45am. Ouch. I laid out all of my gear, gathered my nutrition, over-stuffed some drop bags with questionable items (two extra pairs of shoes? REALLY?), panicked that I didn't have my usual Salomon bladder (it sprung a leak after almost a year of hard use) but opted for twin chest bottles, and tried to settle my nerves and trust my training. I honestly had no idea what to expect the next morning so I tried to pack a little bit of everything to deal with any scenario – I'm sure this is a common ultra newbie mistake. I had every type of nutrition (gels, bars, powders, chews); back-up socks for my back-up, back-up socks; layers for days; and a full course map, marked to shit with little notes of climbs, aid stations, elevation profiles, and nervous doodles to make me smile. My only hope was to survive the next day. It was going to be long, it was going to be hard. I just didn't know how long or how hard. I was about to find out.
THE SQUAMISH 50
Note: So my memory is a little foggy. Apparently when you run for incredibly long distances or durations, your mind decides to block out long stretches. I will do my best to fill in many of those gaps and recall as much of the day as possible. Regardless, this is a LONG race report – so long, it might take you as long to read it as it took me to run. So grab an IPA, relax and enjoy the imaginary ride!
My alarm sounded clearly at 3:45am. My body hadn't allowed me many minutes of sleep through the night, so getting out of bed wasn't much of a chore. I had just enough time to down some oatmeal, some bites of an apple, get my gear together and wake Joe for the early departure. As it has been with all of my recent races, a calm settled over me as we drove towards the southern most tip of Squamish's downtown water access. We parked the car, hopped out and made our way to the start: a giant inflatable Arc'teryx arch I remember from the previous year's race photos. As I eyed the runners around me, all huddled in anticipation for the 50 mile start, I couldn't help but notice how chiseled and monstrous they all looked. Like they'd been training in the depths of hell for months in preparation for this race. I straightened my silly fluorescent pocket hat and hoped my clown-turned-goober-ultra-look intimidated someone there, even if it was one of the barking dogs for God's sake!
I followed the group of beasts towards the start-line and awaited that familiar countdown we've come to crave. As Gary's voice carried over the oceanfront parking lot, I focused in on relaxing and believing that my mind and body would work together for the next half-day. My feet began moving forward in a slow shuffle as I plodded along underneath the starting arch. As we started off, the course took a sharp 90˚ turn to the right along the eastern edge of the parking lot. Then another 90˚ turn to the right along the southern-most edge of the lot. It suddenly dawned on me: we were running around the parking lot before we ventured out for 50 miles. What sort of masochistic RD makes his racers PARADE AROUND THE PARKING LOT LIKE SHOW PONIES before getting their asses handed to them?! These RDs do. Awesome.
The first 6 miles of the Squamish 50 miler are all flat and easy. While the summer sun rose behind snow-capped Garibaldi (or Black Tusk, not quite sure of the peaks) far in the distance, we transferred from gravel trails, to roads, to dirt paths, in and out of the trees, through town, down back-streets and finally towards a trailhead that marked the beginning of the rest of the day's adventure. Like a mysterious gateway into the unknown, the trees hauntingly hung low above the soft single-track as it snaked it's way quickly left and up. I felt a smile overtake my face. I felt like I was home. I finally felt the cool morning air, smelled the soft Earth beneath me, and listened to the background buzz of the forest. Time to push.
I remember ascending some fun single-track as I made my way to the top of the first climb of Debeck's Hill (mile 10ish). While it was technical in spots, nothing out of the ordinary. At this point, It was still very early in the race but for some reason my stomach wasn't interested in taking in calories or liquid. I wasn't in complete nausea mode, but it was FAR too early in any race to be feeling the way I was feeling. As I often do, I let my mind play games on me and my confidence began to waver pretty early on here. By the time I hustled into the second aid station at Alice Lake I was ready to take a break and talk to the local volunteers in hopes it would take my mind off my slow destruction.
I was in and out of the AS pretty quick, much to my surprise. I had opted to carry no bladder system in my pack and instead had my two bottles up front. My plan was to fill both with water until mile 23 or 30 where I would swap the smaller of the two for Hammer Perpetuem or Sustained Energy powder. In my mind it was far too early to make the swap from gels, pocket fuels, and real food to liquid nutrition, so I skipped the thought, chugged the water and went on my merry way.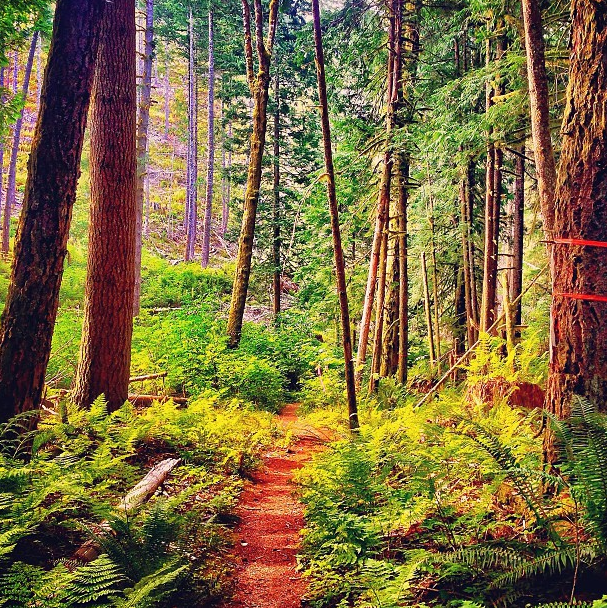 This is when I realized that the Squamish 50 never lets you create a running rhythm. By the time you start picking up the pace, the trail takes a sharp turn up, into a patch of roots, across some mountain-bike foot bridge made of firewood, or down a rocky ridge that requires full body attention. There is no unity to the course, it's just a series of unpredictable patches of varying terrains, relentlessly angled up and down. The very few stretches early in the race where you could let your guard down and really run were wildly fun, but they felt out of place amongst all the technical chaos and were soon forgotten.
That's when I hit the lollipop. Just around aid station 3 (mile 17) you begin a reckless straight shot southward along a rough zig-zag of some mountain bike single-track placed in the heart of a wide green belt. By looking at the map I packed in my shorts pocket, I was able to see that the lollipop heads out of AS3, briefly touches Edith Lake, travels up and down various ridges a number of times only to return back to AS3 some 6 miles later. I stocked up my water, partook in the usual AS delights, cheered on some of the faster 50 miler racers who were now on their second pass through and even cheered on some of the 50k runners who had started about an hour earlier a few miles before. My stomach, still not settled, resisted everything I put into it. My goal was to keep everything inside, so I took it down a notch, tucked in with another 50 miler, shared the ever-awesome company & conversation of a fellow bad-ass, and planned my return to the same AS about an hour later.
By the time I returned, I just remember being wrecked. I don't know what happened on that short loop, but from mile 17 to 23, my whole outlook on the race was crumbling. It was far too early to throw in the towel and my body was being abnormally fussy, so I gutted it out. When I power walked into AS3 again, I went straight for the potatoes, watermelon and Coke. I also opted to switch to liquid nutrition. Something about the relentless ups & downs of the course mixed with the inability to really run any significant stretch was taking it's toll on my mental game (and stomach). Also, being so new to the 50 miler game, I still do my best to save as much in my tank as possible for those last 20 miles. With experience will come confidence. And in this moment, experience told me to chug another cup of Coke. I was about to climb the biggest monster of the day.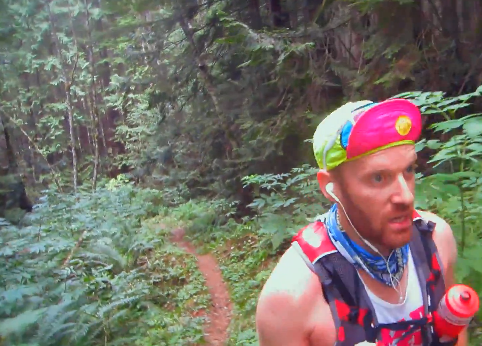 2000 feet in just over 3 miles is totally doable and I've trained on harder. The problem comes when it's in the middle of a 50 mile race and you've been told countless times that the race only gets harder in the second half. As I began my power-climb up into the thick, cliffside forest, I questioned how hard to push. Do I hold back knowing it gets worse or do I really push, summit quicker, but potentially blow my chances of finishing hours later? I opted for the former, kept my heart rate under control, and plowed ahead. Surprisingly, a light rain started to fall. I welcomed it with a smile equally as warm as the humid air through which it fell.
As I passed a few struggling power-hikers, I took in a buddy that was also feeling about the same and cranking at a similar cadence. He'd left the previous aid station in rough shape but was managing to maintain. We used each other as distraction for the next hour or so as we bounced over huge roots and logs, onto sharp rock outcroppings, and eventually towards what my map 'said' was the top of the climb. As we closed in on our supposed goal (there really was little indication as to where the hell we were on the map), we ran into a girl huddled on the side of the trail. She didn't look well at all and it was obvious something was amiss.
"Are you ok? Do you need anything?", I asked. I could tell her stomach was causing her major distress as she waved us on with a distant, gaunt, 1000-yard-stare. As we reluctantly pushed beyond, we could hear the distinct sound of her relieving her stomach onto the bushes beneath. It was followed with the sound of footsteps as she continued to hike up. "That woman was BAD ASS", I thought. Heaving on the side of a mountain climb only to put on a smile and charge on as though nothing had happened? Bad ass.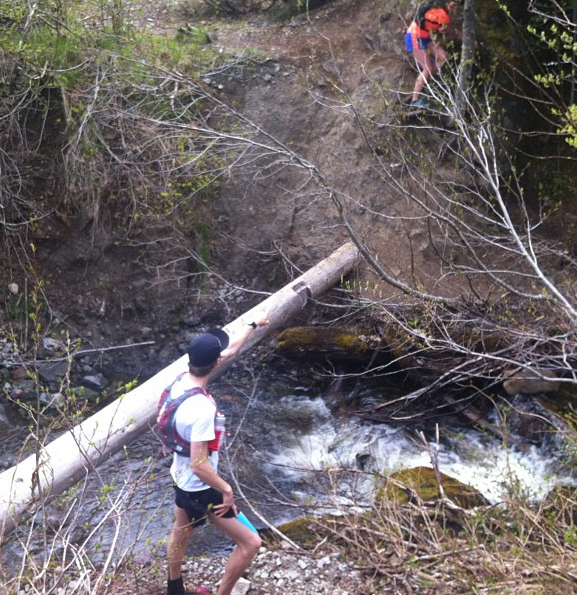 I knew this climb never really "summited". There was no open peak to trounce over. I really only had a mental marker that would signify the peak of this climb. I had seen a photo hash-tagged a few days earlier on instagram from a local runner who was running some of the course. I remember the photo terrified me. A group of runners navigated (read: slid and climbed) down a steep incline to mount a single log bridge as it gapped over a raging stream. Fun on any training run, not a fun indicator of what a race may have in store.
On the race map provided by the Squamish50 crew, there was a caption "CAUTION: Scrambly Creek Crossing" right at the apex of the big climb so I figured the photo was the very same creek crossing we would need to bridge before we descended back down the backside of the mountain to the next aid station. I was not excited for this crossing, but knew that if I could get to it, I'd have reached a huge hurdle on the course and could push through to the end – or so I thought.
My new running buddy and I continued to ascend, questioning just how much longer this mountain was. Just as he was falling back due to lack of calories, we came to what I instantly recognized as the creek crossing I had seen in the photo. But the big difference was that instead of a cliff scramble to a thin log-bridge, there was a brand spanking new lumber bridge that crossed to the other side over the river. It was as if the God's of Ultra had read my concerned mind and built me a safe path just before I arrived. I smiled, relieved my internal anxiety, and ripped across the bridge and onto the trail ahead.
The next major mental hurdle was the anticipation of the next aid station. The map and website said mile 30, but as we descended gingerly down the gnarled, root-encrusted singletrack into the valley beyond, that bit of information was becoming glaringly inaccurate. I could hear the continuous boom of the Squamish Music Festival in the valley below, but it never seemed to get closer. My bottles were both long empty at this point, I was forced to ration my Picky bars and Pocket Fuels, not sure of when I'd see another table full of goodies or jugs of water.
There were now a handful of us 50 milers all within ear shot of each other as we struggled down. We were constantly checking in with each other to see how we were holding up and what sort of things we were going to gorge on at the AS when it finally appeared. I was by no means in the worst shape – most of us were out of liquids, but many were out of all solid calories and had been for miles. I was beginning to worry about whether there truly was an AS ahead or if we were out of luck until the NEXT scheduled aid at mile 33+ (Quest University). When my watch clicked over to mile 31.5, I could finally see the fire road that signaled the aid station. FINALLY.
I quickly rolled in, went straight for the water cups, refilled my bottles, mixed some nutrition, and drenched myself in water as the clouds of the morning were burning off leaving the humid mountain heat. I took a few minutes here to regather my strength, talk with fellow strugglers, and eat. Well, that last part wasn't to be. As I gathered my wits and took in my surroundings, I realized this was less an "aid station" and more of a "folding table with a water jug and marshmallows". The only solid calories these kids had driven up were those orange marshmallows that nobody ever eats, but grandma loves to keep in a dish somewhere in her house. I noticed the frustration a lot of runners were expressing at each other and the volunteers for lack of preparedness. The volunteers defended that there would be plenty to eat at the next AS, Quest University. It was just about 5k ahead. Suddenly, a voice over a volunteer's walkie crisply said, "We're out of Coke at Quest University Aid Station. Should we try to get more?" Almost in unison, every runner around me screamed, "YES!! TELL THEM YES!!"
A group of 4 runners, including myself, put on our game faces and charged back into the woods ahead. The only thing keeping us moving forward was the fresh water and promise of basic calories (and hopefully Coke) a few miles ahead. What I may be failing to get across in my words is just how ominous a simple 3.2 miles of Squamish trails really is. Typically, I could cover this distance, on trails with hills and climbs, in under 30 minutes on decently tired legs. Today, I mentally prepared for well over an hour of hiking, struggling, and pain. Coke. I just needed to get my instant sugar high of Coke.
By the time I finally roll into Quest, my body was destroyed, legs in nasty shape, and feet just spent. Both bottles were out of liquid again so I veered straight to the tables of calories, handed my bottles off to an awesome volunteer for refilling, and saw the plethora of cups of Coke. YES! The next 30 seconds went like this: Coke. Potato Chips. Coke. Watermelon. Coke. Watermelon. Breathe. Coke.
I dunked my buff into the first ice water – and only ice water – of the day. With my new found strength and cool neck, I pushed out of Quest, up the hot concrete road, back into single-track territory. I remember mentally checking back in with my body and was surprised by the lack of the stomach issues I'd been dealing with since the beginning. As much pain as I was in throughout my body, I had somehow gotten my stomach back on track by switching to liquid nutrition and Coke. While my mental state was in the dumps knowing I still had some of the hardest mileage ahead, I found a bit of confidence and strength in my nutrition choices.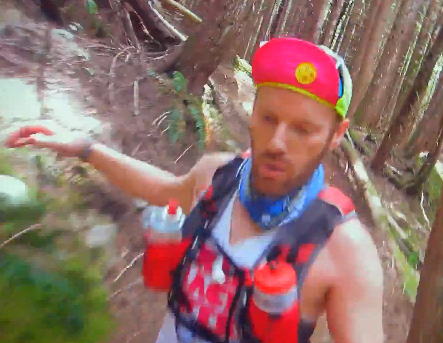 The next many miles were a blur of ups, downs, cursing, smiling, talking with fellow runners, and watching people fall apart. I remember power hiking some brutally hot exposed trail when suddenly I saw a small paper sign in the dirt that said, "Freezies ahead!" Wait, for real?? The music from the man's camper van signaled it was in fact truth and not some apparition brought on by exhaustion and malnourishment. As he reached his hand out to me, grasping ahold of a bright red cherry flavored ice-stick, I couldn't help but open my mouth in anticipation. The Freezie may have lasted less than a second before I devoured it's sweet icy mess. As soon as he noticed the fervor with which I destroyed his first gift, he had another on reserve ready to go. To the dude that trekked all the way up to feed us Freezies, I thank you kindly and sprinkle down an endless stream of ginger-dust to magically bring your hopes and dreams to reality as you did mine.
Despite being nearly annihilated, I remained in positive spirits. I kept my pace fairly moderate and consistent. I just sort of clicked into "maintain" mode, not pushing beyond what I thought my body was capable of on this terrain and this distance, but also keeping my forward-motion mentality a reality. I never slowed down too much (unless I was climbing another brutal uphill scramble) and never let the pace get ahead of me. I really had no idea where I was in mileage or how fast or slow I was going, just that I was moving. It was survival.
There was a moment that I was running a short stretch and could hear a river down the trail. The dull roar got closer and closer, until finally, as I burst through some foliage, I was at a footbridge. As I took in the scenery and tried to muster the strength to admire it, I glanced at my watch. 40 miles. I was taken a bit by surprise as my mind celebrated that I had roughly 10 miles to go. Admiring the view was no longer my priority, finishing this pain-fest from hell WAS. My mind began thinking of all the horrible things I'd immediately say to Gary at the finish line. How many variations of "Fuck You!!" could I think up? Only time and the next few miles would tell. In the meantime, upward and onward.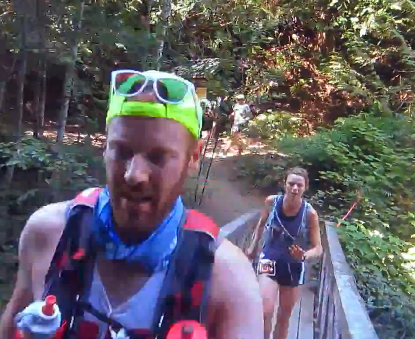 It was around this time that I began running with another 50 mile victim, Hannah. As we plowed through the miles, both fairly pumped to be so near completion but also collaborating in our complete hatred of the course, we let our conversation distract us from what I now look back on as the hardest miles of the race. The map I had stashed in my pocket, now blurry with sweat, only listed two more 'climbs' – speed bumps in comparison to the day's earlier peaks. But, boy, these felt like pure evil. Imagine being endlessly whacked in the quads with baseball bats and forced to split cinderblocks with your knee-caps. The pain was insane. But we plowed on with our vision set on crossing that damn finish-line. Hannah managed a bit more strength heading into the final aid station, but waited for me to grab some more watermelon and coke before we continued our final 7+ mile push to the end.
We pushed around the base of Mount Crumpit, passing 50k and 50m runners alike. I was surprised my legs were still working, but it was pretty obvious that they weren't working nearly as well as Hannah's. I don't quite remember at what point we split up, but I imagine it was heading up the final climb. Looking back, these were by far the most emotional miles for me. So much anxiety, so much stress, so much doubt, and so much fear lead me into this race. But here I was, only miles from the finish, still able to run and walk, and smiling through it all. As I hiked amongst moss-covered tree trunks, large palmed ferns, cliffs of enormous magnitude, and a sunlit single-track, the tears flowed as free as my spirit in the moment. I reflected on all that got me here, the people with whom I surround myself that inspire me daily, my friends and family who provide endless – while often confused – support, and my girlfriend who remains my rock. I couldn't have done this without all of them.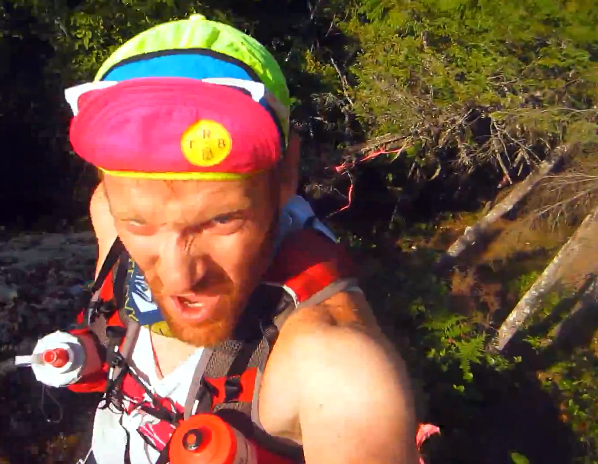 As I was half-way up this seemingly endless climb, I heard another runner come up behind me. His name was John and we had been leap-frogging all day. Also in good spirits and excited to "get this bitch done with", we trudged on in unity, conquering the last major ascent of the day. Neither of us realized that this climb got harder the higher we went up. It was relentless all the way to the very VERY end, where there is a good 20 foot bolder that borders on 50% grade. You're gifted with a spectacular summit view, but at this point in the race, you just want down off the trail and into a deep vat of craft beer. I quickly marveled, moved on, and started the descent. Holy shit. If I thought the up was bad on this lil hill, the down was INSANE. Boulder scrambling, tree grabbing, knee knackering, OH MY! And that's not even including the stairs. The seemingly endless steps that descend at an incredible rate pop out of nowhere and make me think Gary and Geoff installed them JUST to fuck with all of us racers.
By the time I reached the bottom, I noticed that my watch was acting up. I was at mile 48.6 before it decided to die. FUCK. The pain combined with the frustration practically brought me to my knees begging for mercy. And that mercy came in the form of a 5k road and gravel sprint to the finish. Well, that's what the volunteer mentioned. Too bad that by the time I straggled to the next race volunteer along the course, they too said, "Only about 5k left!". Ok, no problem, just a little miscalculation earlier. I still got this. But nope, when I reached the 3rd volunteer about 1.25 miles later and heard her say, "About 5k left! You got this!" I almost went ballistic. We'll just chalk that up to late-race-run-rage, but, honestly, the last thing you want to hear this far into a 50 mile race is misinformation. I really had no bearing as to how far I had travelled nor how far I had left. I tucked my head down, let the emotion take over a bit, and pounded down the road mumbling obscenities to myself.
By the time I heard the cheers from the finish-line crowd, I was so deteriorated mentally and physically that I barely responded or cracked a smile. It wasn't until after I crossed under that unforgettable black Arc'teryx arch, high-fived Gary and received my finisher's medal that I let my lips even curl slightly. I caught my breath & gathered myself enough strength to walk right up to Gary and let him have it. "Hey Gary, FUCK YOU!", I said laughing, "That was one HELL OF A COURSE" – or something like that, but with a few more expletives. We both laughed and patted each other's shoulders knowing we had both done something pretty awesome. His jovial response was priceless, "Everyone has been saying that! It must have been the additional mileage and adding that last summit there at the end, huh?". No, Gary. It was the whole damn course. You're a monster. And I'm a STUPID IDIOT.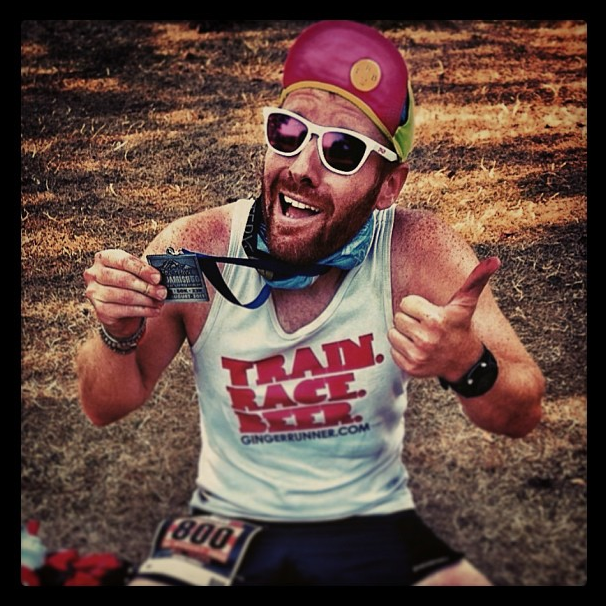 EPILOGUE
It's been over a week since the race. I've managed to push through some short recovery runs, mountain hikes and I've had plenty of time to think about the experience. Firstly, this race was amazing. It was as beautiful as much as it was challenging. Running 50 miles through the insanely gorgeous Squamish mountains was an experience that I will never soon forget – well, aside from the hours my mind continues to block out. I have to give some major credit to Gary and Geoff (and all the volunteers!) for not only putting on a world-class event that will surely find itself in the global Ultra spotlight in the coming years, but for also being consistent in their desire to make a hell-course that becomes increasingly more difficult as the miles go on.
As for my performance, its hard to be critical in this instance. I obviously wish I'd have finished sooner, but taking into account the amount of torturous terrain and subsequent toll it takes on one's body, sub-13 (JUST barely) is all my body was willing to give that day and I am beyond grateful for that. As I venture further into this beast of a sport, I will continue to push myself harder and document my journeys. I have to admit that this race was more than I bargained for, but I'll be the first to tell you that the rewards are that much sweeter – especially the ice cold, guilt-free craft beers! I alway seem to doubt myself going into races – I doubt my training, I doubt my ability to finish, I doubt all my experience – but my mind and body continue to surprise me with the amount of punishment they are able to handle.
This race is a monster. It is not for beginners. Let me warn you now, the Squamish 50 mile ultra marathon is a nasty witch that will cast her spell of toxic allure over you, consuming your thoughts until you're able to toe the start-line for yourself and suffer the pain of the grueling Squamish terrain. My best advice is to ignore the witch's temptations to sign up for the race in November. However, if you're like me, a stupid idiot, you already have your alarms scheduled to go off once registration opens. The Squamish 50 chewed me up, broke me down, and challenged me beyond what I ever thought possible. I can't wait for the next chance to go back.
LIKED:
Insanely Beautiful Course
Incredible Course Markings
Aid stations/volunteer support
Nice Race Ts
TOUGH COURSE
Awesome RDs
VIEWS
DISLIKED:
Lack of consistent foods aid station to aid station (no salt or PB&Js!)
Lack of course knowledge by volunteers (how long till next aid/finish)
Travel costs (plan WELL in advance to avoid heavy costs!)
My feet hurt (hahahaha)
RACE SUPPORT: 8/10
RACE ORGANIZATION: 9/10
PRICE: 9/10 ($95)
BONUS: 8/10 (Course; Canadian Camaraderie; Sweet SQ50 gear for purchase; Freezies)
TOTAL: 34/40
OVERALL TIME: 12:59:32
PLACE OVERALL: 58/104 (finishers)
PLACE IN SEX: 42/71
PLACE IN DIVISION: 34/51
Tags: altra, BC, best, best races in canada, British Columbia, canada, ethan, ethan newberry, gary robbins, ginger runner, hoka, hydration, hydration pack, lose, mantra, marathon, medal, new balance, newberry, nike kiger, nike+, one one, pictures, race report, review, salomon, saucony, squamish, squamish 50 video, squamish50, the squamish 50, trail shoe, ultimate direction, ultra, Video, win, worst, youtube