For the last 3 years, I've had the pleasure of running 26.2 miles through the streets of one of my favorite U.S. cities, San Francisco. 2013 is the first year that both my girlfriend, Mile Long Legs, and I ran the full marathon together so I was eager to share the experience with her. In years past, the course has always proved a significant challenge in that it's hilly, windy, and crowded. This year, I felt a bit more trained having come off the Leona Divide 50 miler so I thought I'd push the pace a bit and go for a personal course record (previous CR: 3:51:26). I also wanted to be able to run back along the course, join up with MLL and run in with her. You can both watch the video above and read my report below to get a good idea of how this year's race unfolded.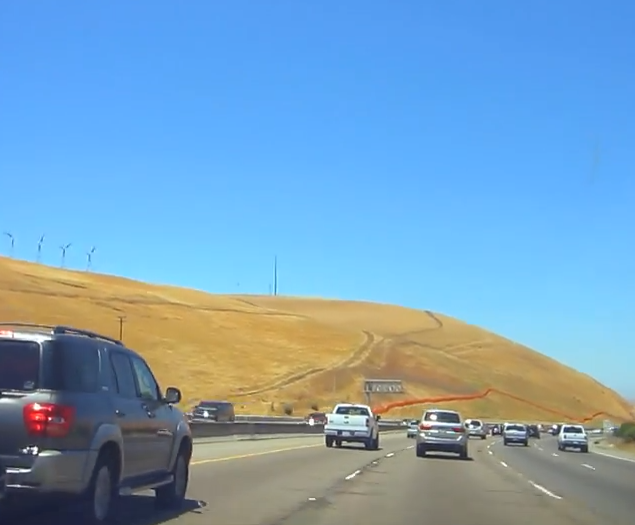 First of all, we opted to make the drive up to San Francisco (5.5 hours from LA) rather than flying to save on costs. We also chose a fun AirBNB location near the startline that saved us even more. I'm pretty sure we put all the money we saved on airfare, car rental and a hotel right back into food and beer for the trip. A fair trade-off in my opinion.
The drive up Saturday morning was uneventful if not enjoyable with our rekindled love of audio books (thank you, Dan Brown, for making easy-to-listen-to-road-trip books). Once in the city, we hit up the expo as we normally do. I will say this, the expo has gradually gotten worse with each year we've run this race. The crowds are fine, but on-site organization and logistics are a complete fail. Examples: after so many hours on the road, we both needed to use the bathroom. Unfortunately we had to sort through the entire expo & crowds to join the 20 minute line at the rear, SINGLE PERSON BATHROOMS. Once we were free from that discomfort, I had to wait in another 40 minute line to confirm my name was added to the LA/SF Challenge list (this is a special challenge for those who've run both the LA Marathon and SF Marathon consecutively). My name was not on the list posted online and despite emailing the SF Marathon crew, was told I'd have to sort it out at the expo. 40 minutes later, the one dude stationed to help the throngs of similarly lucked runners put a sticker on my bib and sent me on my way. We promptly and grumpily left the expo, not even stopping to enjoy any of the vendors.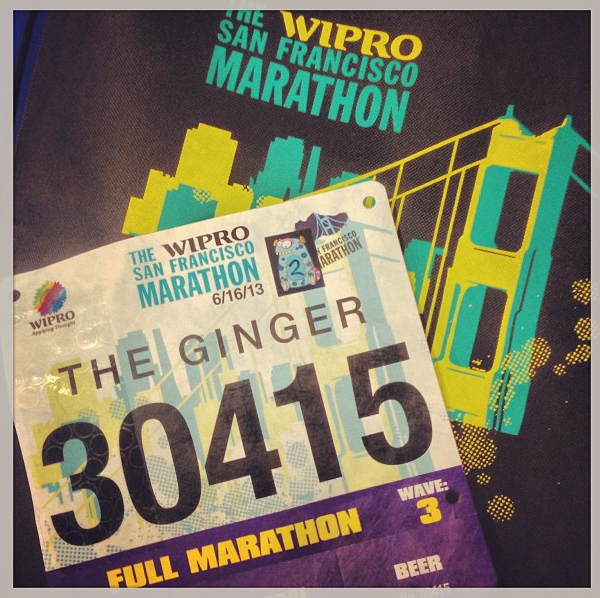 Before I move on, I have a gripe to pick with almost all races: shitty race shirts*. As an avid runner who consistently reviews all sorts of running gear and apparel from all sorts of brands, who frequently enjoys sanctioned races and the schwag one gets for participating, who has no shame in saying I consider myself an authority on race apparel: PLEASE MAKE BETTER RACE SHIRTS. I'm sorry, but the 2013 San Francisco Marathon race shirt may be the straw that broke my camels poor double-humped back. The brand-less, quality-less piece-of-shit medium-sized race shirt I received when I got my bib not only fit like a baby spandex small with sleeves up to my elbows, but even after sizing up to a Large – which I've never had to do with race shirts – after a single washing the shirt's sleeves are mid-arm and the entire garment is literally disintegrating. Two years ago, the SF Marathon gave me one of the best race shirts I've EVER received. It was that quality, custom made shirt that sold me on this particular road race as being a stand-out amongst a sea of shit-fests. But alas, the SF Marathon has gone the way of the RnR Marathon route: cheap quantity over cool quality. Shame on you, SF Marathon!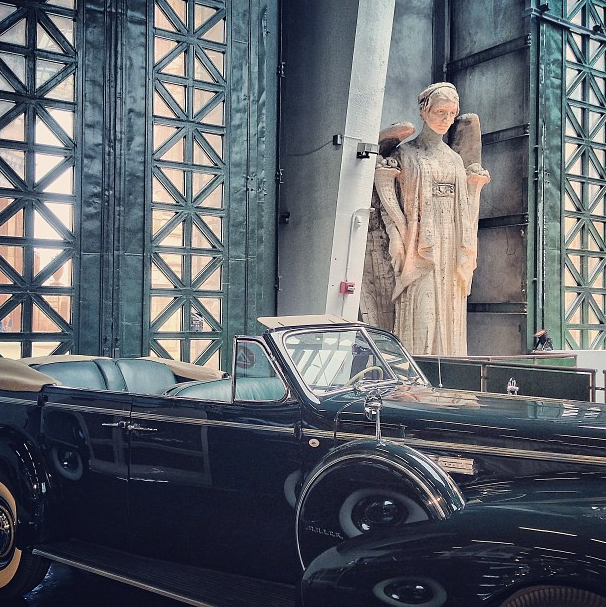 * – Of note, only 3 races I've ever run have delivered on quality race-shirts. I'm talking about shirts that I'd wear in public outside of an expo experience. The 2011 SF Marathon, The Ray Miller 50k, and The Leona Divide 50m. All 3 delivered quality shirts that look cool, fit great, and hold up to typical training. I might toss the North Face 50k shirt in there too, but I have other problems with it.
Ok, now that that's off my chest, let's move on from the expo! We started off on our route to check into our AirBNB location but after making contact with the owner found out the tenants who were there the night before hadn't checked out yet. The owner told us he'd boot them out, clean it up and we could check in in a few hours. Well, now we had a few hours to kill before we could relax. We opted to drive out towards Crissy Field and walk around the Presidio. This turned out to be a fun surprise as there was an old antique car show going on when we arrived. Some of the most beautiful cars I have EVER seen were parked around the inside of the Presidio showroom building and we got to walk around inside, drool from the mouth, and ogle the insane amount of car porn for no charge. A nice little surprise!
From there, we got the ok to check back in to our unit, unpack a few things and were off to our traditional pre-race dinner at Gracias Madre in the Mission District. Before we knew it, it was late and time to try and catch some sleep. I managed a decent night's sleep – most likely from all the driving and sleepless nights before – but poor MLL barely slept a wink. We had a very early wake-up time of 3:30am so we were both a little groggy getting up. With a 5:42 start time for my wave, I like to get to the start about 45min. ahead of time, but the SF Marathon recommended an additional 45min. for security checks this year. That meant we had to leave our place at 4am to get to the start on time. If it wasn't for the awesome Uber service, we may not have made it in time! Love that app.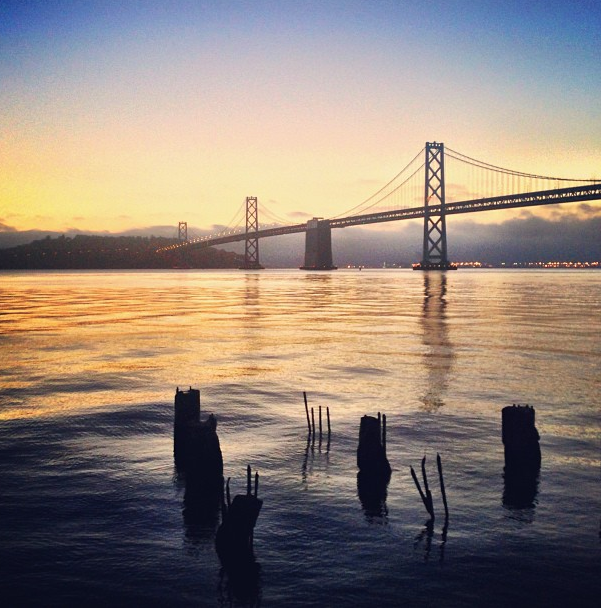 Now that we were at the startline and through security, it was time to get our game-faces on. We met up with one of our friends from the race's PR agency, gave hugs and took pics, then split to go to our respective wave starting areas. I managed to take some time to find my pre-race zen by looking out over the bay and blocking out all the starting coral noise. It was time to focus up and do my best out there. Before I could fantasize about the delicious beers I would down after completing the marathon, we were called to our start and were off.
THE RACE
This is a tough marathon. The first half has numerous hills including the legendary Golden Gate bridge. The second half includes running around Golden Gate Park, and down even more steep hills near Haight Ashbury. You really have to be strategic with where you push and where you hold back. I opted to take the first half fairly moderate with the hills and dodging the hoards of people (both full and first half marathon runners). With a more moderate pace I was really able to enjoy the most gorgeous scenery the course had to offer. Running along the waterfront and Fisherman's Terminal, then around Crissy Field towards the Golden Gate Bridge is nothing short of breathtaking. The Bridge itself, while quite a challenge, is unique and a fun experience. It's one of those moments that helps this race stand out against every other road marathon and I hope they leave it in the course year after year. Side note: I will say that I noticed quite a few runners cutting the turn around at the end of the bridge which put a sour taste in a my mouth. I get it, you just saved 30sec. to a minute off your time, but boy is it disrespectful and dishonorable.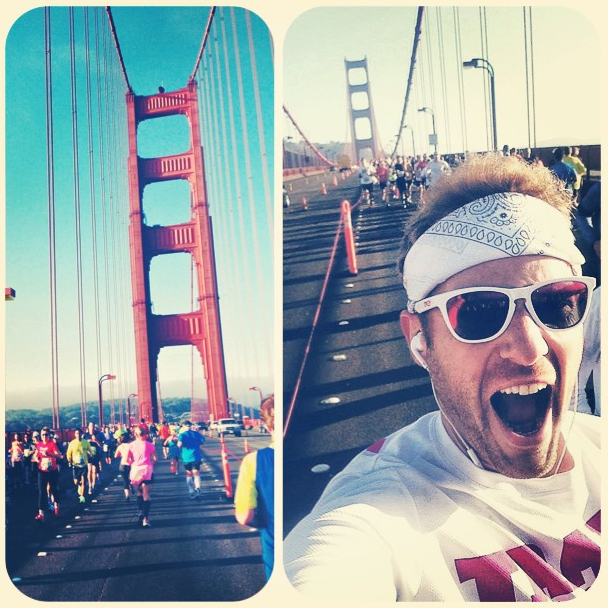 Once over the bridge, we head down towards China Beach and into Golden Gate Park. This park is awesome and probably my favorite part of the entire race. Not only do the full marathoners separate from the first half runners allowing for far more open space to run, but you get to run amongst the trees and ponds the park is known for. I wish I could run MORE mileage in the park for this race! This was also the time I started to notice the lack of spectators this year. I don't know if it was because the race was a month earlier this year or what, but there definitely seemed to be a smaller number of people cheering along the entire route. I wouldn't say this race has ever had the most spectator support, but just something I noticed this year in particular.
Once out of the park, I was still feeling damn strong so I started to feel like pushing a little bit harder. As I approached the Haight Ashbury hills, I got a bit hesitant as I do every year since I injured my foot there 2 years ago. They are steep downhills that take their toll on your quads, ankles, feet, knees, etc. But once I started rolling down, I felt the trail training I'd been enduring kick in and I just let my legs fly. Not wanting to crash and burn a few miles from the finish, I kept the pace steady, strong and diligent. Only a few more miles – the most boring relentless miles – to go!
The miles you run from Haight Ashbury to the Port Of San Francisco are long, arduous and boring as fuck. There's not much to look at, the blocks and street closures force you to zig zag your way to the water never giving you a good sense of distance to go, and the lack of spectators is most noticeable here. It isn't until you get to the waterfront that you begin to gauge just how little you have left until you're done with the race. Once I reached AT&T stadium, I knew it was just about over. Just needed to pass back under the Bay Bridge and run .2 miles up and over the finish line.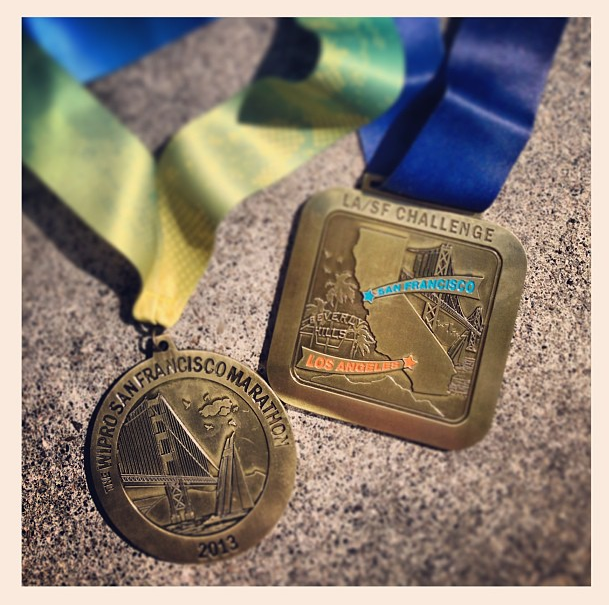 Before I knew it, I was done and I felt great! Still VERY strong, a little sore in a number of places, but good overall. I was pretty confident I had a course PR, was stoked about that, but also regretted not pushing that first half a little harder. In reality, there's no way to know if I had pushed harder earlier if it would've helped my time, broke my body sooner, or what. I just need to be happy with the performance I brought on this day.
A quick jaunt through the finish coral to grab my drop bag and I was back out on the course, walking my way backwards in hopes of catching up with MLL and walking/running her back in. I texted her that I had just finished and she replied that she was in pretty bad shape around mile 18. I told her to push on as best as she possibly could and that I would meet her as soon as possible. I walked to around Mile 24 where I set up shop and cheered for the runners. I remember having just run through here and would have loved someone yelling at me that there was very little left to go. Needless to say, I had some fun making the runners smile with jokes about beer, pain, and waffle breakfasts. I even handed out a few of my gels to runners who obviously needed it. It was then that I saw MLL struggling.
As soon as I ran up to her, we embraced and evaluated what was going on. I'm sure her race report includes far more details as to her condition than I can relay, but not only was her injury at a level 10, she was cramping and struggling with nausea. Welcome to Bonkville, MLL. Population: Everyone at some point. I figured the heat of the morning (VERY warm) and lack of on-course nutrition contributed to her condition. I quickly offered salt pills and gels, but I don't think she wanted anything other than finishing and being done at that point. I quickly relegated myself to cheerleader and just continued to follow her pace and push her into the finish chute. She was still smiling occasionally which proved she'd be just fine and sure enough, within minutes, she was running down across the finishline smiling from ear to ear!
And just like that, MLL finished her 3rd full marathon – and in record time, no less!! So two records in the books, two smiling runners, and plenty of craft beer to drink at home. This was an awesome day.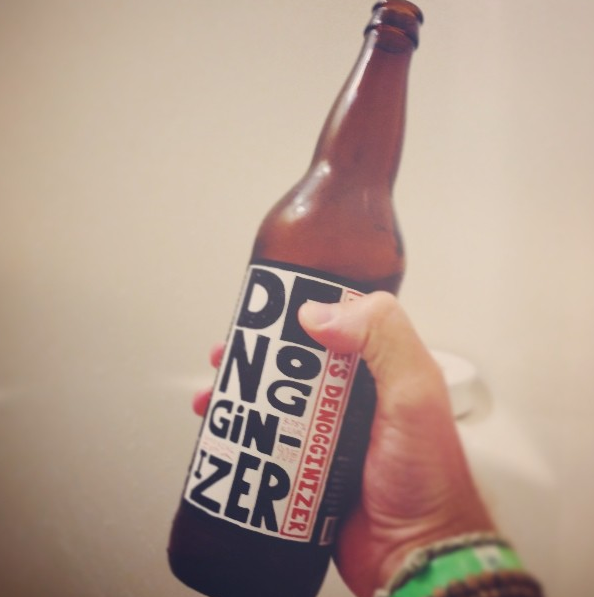 We got back to our apartment, cleaned up, drank up, and ate as much pizza and goodies as we could find. This is our traditional San Francisco Marathon routine and I doubt we'll be in a rush to change it. As I've mentioned, this race has become somewhat of an annual tradition for us and we hope to continue it next year – hopefully with more friends in tow. While I have my issues with expo organization and price-to-reward-ratio, the SF Marathon is one of the better road races I've run across the board. You just can't beat running 26.2 miles through such an awesome city full of life, food, and…well…BEER. Thanks again for a memorable race, San Francisco. Until next time!
POST RACE
So our trip didn't end there. For this particular adventure, MLL and I decided to make the most of our NorCal journey. We first headed northbound over the GG Bridge to visit the new San Francisco Running Company store. I have a bunch of ultra running friends who've mentioned it's a, "MUST Visit!". We stopped by, met and visited with Brett and Jorge – who were beyond awesome, fun, and educational – grabbed some logo'd gear and headed back out, not wanting to overstay our welcome in the company of the ultra greats!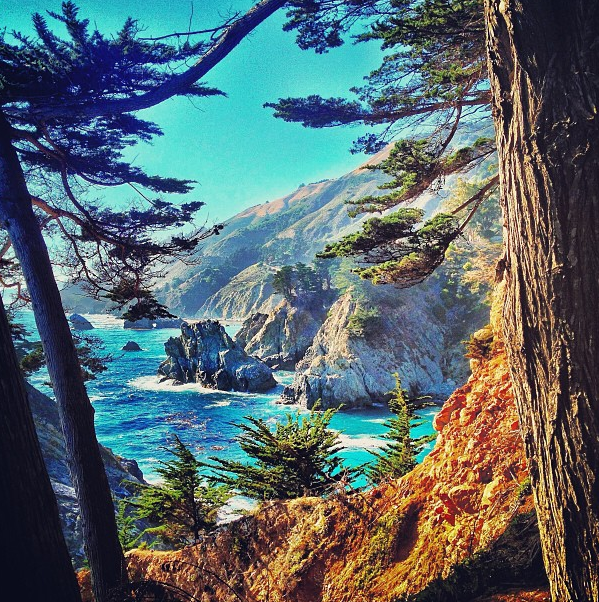 On our way back south, we headed out to Highway 1 for a continued adventure down along the Big Sur coast. It had been awhile since we'd visited this area of California, but it's been on our staycation list of journeys for quite some time. We jumped out of the car occasionally for some impromptu highway-side hiking and picture ops, but continued on southward towards Santa Barbara wine country, our stop for the night.
We rolled into Solvang late that evening, but had enough time to toss on our bathing suits, pop open some cold brews and enjoy the hotel pool and jacuzzi for an hour or so. In the morning, we unstrapped our bikes from the hitch and ventured on a peaceful rolling 20 miler through some of the most beautiful car-less wine country roads. We only stopped at a couple of wineries on our way back into town, but it was enough to bottle us up for awhile. From here, we repacked the car and trudged on home, thus ending our awesome San Francisco Marathon adventure. If you get out to NorCal, I highly recommend visiting the Big Sur coast and venturing into wine country. California really is like nowhere in the country and I can't believe how fortunate I am to call this place home. I can't wait to plan the next adventure!
LIKED:
Beautiful Course
Efficient start line
Aid stations/volunteer support
Big, heavy medals and bonus medal challenges
VIEWS
DISLIKED:
Expo organization
Shirts SUCK
Expensive
Crowded first few miles
RACE SUPPORT: 8/10
RACE ORGANIZATION: 7/10
PRICE: 8/10 ($105-155)
BONUS: 8/10 (Course; Camaraderie; Finishline goods/goodie bags)
TOTAL: 31/40
OVERALL TIME: 3:48:50
PLACE OVERALL: 1113/5823
PLACE IN SEX: 948/3905
PLACE IN DIVISION: 215/762
Tags: 2011 san francisco marathon, 2013 san francisco marathon, adidas, asics, beer, best, big sur, ethan, first half, ginger, ginger runner, half, hoka, marathon, new balance, newberry, newton, nike+, race recap, recap, review, run, runner, runners, running, san francisco, san francisco marathon review, san francisco running company, saucony, second half, shoes, the ginger runner, train race beer, ultra, which, women's, worst