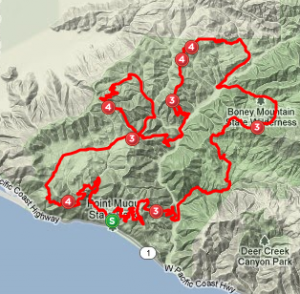 How can one complain about a run when they were surrounded by a breathtaking ocean sunrise, rolling hills straight out of Jurassic Park, and brutal ascents followed by rollercoaster downhill singletrack. The Ray Miller 50/50 was a week ago, but the race was so beautiful, it's been stamped in my brain (and my aching muscles) like it was this morning.
This was my second ultra (The North Face EC 50k was my first) and despite lacking similar inclement weather, was equally as difficult for me (if not more-so). This race takes place in one of my favorite ocean-side parks, Point Mugu, which I've run a number of times before, but nowhere near as far or as deep (tee hee, I said DEEP).  The course starts from the small parking lot just off the PCH, skyrockets up 1600 feet in the first 2 miles, snakes along the tops of mountains, dips down to valleys below, and provides an endless supply of amazing vistas, over 32 miles of nearly all singletrack and 6200ft of elevation.
PRE-RACE
I was nervous as shit going into this race. It had been 2 months since my previous Ultra adventure, I had only logged a single long 20+ mile run while home for Christmas, and was plagued by a month of poor mileage what with CES, Sundance, and various scheduling conflicts. Blah blah blah, moan moan moan. Regardless, as the race approached, I was anxious, sleepless, and lacked confidence. The night before, my roommate was courteous enough to play Halo 4 till the wee hours just outside my room, so relaxing and sleep were non-existent.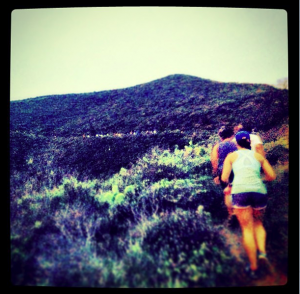 I was late to the startline. Yes, one of my biggest fears came true. With a race start of 6am, I wanted to find that balance of getting to the start early as well as getting as much rest as possible in my bed before departing. Before I knew it, It was 4:55am and the journey was over an hour away. I freaked, hopped in my car grabbing as much running gear as I could remember, and raced down the 101 (within the "speedlimit" for all you law enforcers reading), and managed to find parking with 10 minutes to spare. But I still had to check-in, situate, piss, strap on my pack, fill a water bottle, attach my bib, tie my shoes, comb my hair, put on mascara, do 4 shots of tequila, grow my beard, you know, the usual pre-race traditions.
As I simultaneously relieved myself and attached my bib in some nearby bushes, I faintly heard the RD, Keira Henninger, start to countdown the start. I quickly tucked my junk back into my shorts, pinned the last corner of my bib awkwardly (pet peeve), turned and ran across the line to start what would be a very tough day.
THE RACE
Point Mugu is an amazing location. Trails literally slice across mountains, along cliffs, and drop into lush forests. With these traits come amazing rewards in the form of views and punishments in the form of steep climbs. The first two miles of this race had both. Within the first quarter mile, all of the runners are forced into a funnel as we gallop up singletrack. I knew that wherever I was in the crowd would determine my preliminary race position for the next two miles as you climb 1600ft to the top of Mugu Peak via Mugu Peak Trail. Sure, you can pass peeps, but the trail isn't very wide, it was dark and rocky, and this wasn't the time to make enemies in order to move 10ft up in the peloton.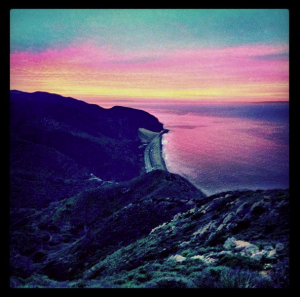 By the time we rounded the peak, I stopped to ogle the amazing sunrise over the sea. The crowds had spread out quite a bit by this point, so I continued on and tried my best to settle into a moderate/easy pace. It was just around the first aid station at Hell Hill (mile 6) that I assessed my legs and body as being "tired as all fuck". I pretty much let the idea of my body being tired consume the rest of my race. So much so that around Hidden Pond Trail, I fell.
Luckily, the fall was minor. It was one of those, "Hey look, I'm runni…WHOOMP!" types of falls that you can't predict, aren't horribly drastic, but still shake you up. I quickly bounced up off the ground, glanced at my palms, brushed off my legs, gathered my ego and shouted I was OK to the runner just ahead who'd turned around to assess the damage. When I've fallen in the past, I get rattled, put all my focus into my stride and pick up my feet in hopes to avoid a second fall. Inevitably, it seems there's always a second fall with me.
Sure enough, true to form, in less than a mile, just after a nice descent, I hit the dirt again, but much harder this time. To prevent a full crash, my left leg LUNGED forward to catch my body, slid on the loose rocks and badly strained my achilles before the rest of my body hit the dirt. This was just embarassing. Again, I popped up off the ground to brush myself off. But I took more time to walk off the pain I was feeling in the achilles. Weirdly enough, running slowly eased the pain and tension more than walking so I picked up the pace again.
I was so embarrassed this time around, the only thing I could do was make jokes about being a 'noob' and how the invisible bears were attacking my feet all morning. People around me laughed and made jokes of their own, but all my attention was poised on that achilles. Last thing I needed was a 12 hour walk of pain to get back to my car.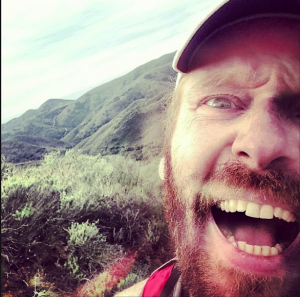 As the miles wore on, the achilles pain felt better and eventually subsided, but the rest of my body continued to put up a fight. There would be no PR today and I knew it. The reality was that this race was a mental challenge for me, a training run for the big league Leona Divide 50 miler in April. My only real goal was to finish, and finish strong. So I tucked my head down and powered on. Until I fell again. This time it was hilarious to me and I managed to catch myself, landed softly and loosely, and laughed it off quickly. In my recovery my quad managed to get stabbed by a cactus and was bleeding. I was a mess.
It wasn't until I rolled into the aid station at mile 20 that things began to get better for me. Before I could even approach the tables of nomz, I heard someone call out my name. I knew there were a handful of fellow local runners that I follow on twitter running this race but I didn't get a chance to meet any of them at the start line because of my stupid tardiness. Sure enough, through the punished bodies of runners grazing the potatoes and pretzles, came my buddy, Billy (@LARunr). I hadn't met him in person, but we've tossed tweets back and forth. Turns out he had to pull out of the race due to some serious muscle crampage.
Honestly, seeing a familiar face and talking out some of the suffering we'd both endured definitely helped me to push on (thank you, Billy). It helped me grasp that I was not alone in my pain and that others – who are FAR stronger than me – were also feeling it. There were a number of DNFs that day, so I count my blessings that I was able to trudge on, however slow, to the finish.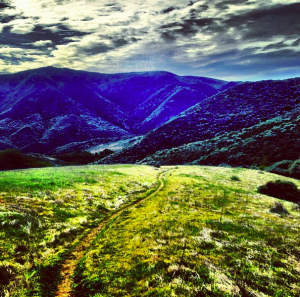 With a renewed spirit, a handful of gummy bears, and some salt pills, I left Billy and the awesome volunteers behind. The trails were now familiar as we steadily climbed Boney Mountain (I ran the Boney Mountain half marathon a few weeks prior). I struck up a conversation with another equally paced runner, David, and found out he was also friends with Billy, and a whole crew of Ultra runners I look up to. We ran a few miles together, chatted about our first ultra, and kept each other's spirits up as we slogged on. When I reached the 50 mile turn-off, I took a moment to gawk at the peaks in the distance and take in the scale of the task I'd be facing in 2 months. 19 more fucking miles. Ugh. Can't even imagine.
It was at the last aid station (mile 25) that I finally had courage to push my pace and keep my heart rate up. Thanks to the amazing volunteers at this last aid stop for being equally attentive & funny. Ran out of there with a huge grin and the confidence that the finish-line was less than a 10k away. I screamed up Fireline trail (that hill was a BEAST) and let adrenaline take over as I approached the final descent into La Jolla Valley – one of the most beautiful 2 mile stretches of singletrack I've had the privilege of running.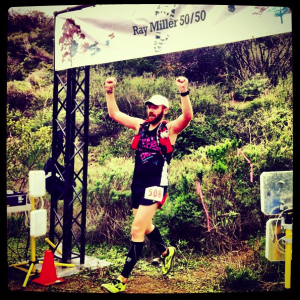 Before I knew it, I was rounding the last few turns into base camp and the finishline. My body was broke, my spirit was exhausted, and I really just needed some food and a beer (or 11). I crossed the line, got my medal, hugged my sister who'd waited hours for me to finish, and shared in the post-race festivities with some new trail running friends. Honestly, It's these guys and gals that continue to inspire me and show me that it's not always about the race we're running, but about the company we keep when we do. They are a warm and welcoming crew I can only hope to continue to get to know.
In the end, as I soaked my legs in the ice cold ocean waves, I looked back at the day's accomplishment. 32 miles run over some pretty damn rugged terrain on nary a wink of sleep, 3 falls, multiple cactus punctures, 6200+ ft of elevation change, while meeting some really awesome people who run farther and harder than myself. I'd say it was a pretty damn good day – until my legs started to phantom-run the course all over again that night while I slept. Stupid dicks.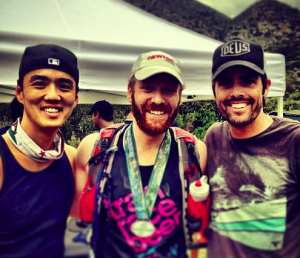 THE NEXT DAY
The next day was Superbowl Sunday. I had made plans to go to a fellow YouTuber's house-party and celebrate with all my favorite 'tubers/actors/producers and the like. While I was there, I was introduced to a girl whom was introduced as "a chick that likes running too!"  We got to talking and I asked if she'd run any local races. She mentioned that she just ran the Ray Miller 50k. My jaw dropped. I told her about my experience and we shared war wound stories (she'd also fallen multiple times and had the chest scars to prove it!). When I asked her how she did, she replied, "I won!". It took me a second to ask her to clarify. "You won?" I asked confused. "Yeah! I was first female to finish! 1st place! AND it was my first ultra!". I was astonished. Not only had I met a fellow ultrarunner at a random YouTuber party that had run the same race as me the day prior, but she won the damn thing. I b-lined for the fridge and proceeded to chug a few more beers. Mandi, I give you CRAZY props for decimating that brutal course. You are PURE BEAST and I can't wait to see you dominate at Leona Divide 50m!

LIKED:
Race organization/Communication
Location
Aid stations/volunteer support & camaraderie
VERY well-marked course
Medals/Shirts/Sweatshirts/Gear Bags
VIEWS
DISLIKED:
No finishline bag check (at least no one I talked to knew where to go)
Very crowded first 2 miles (staggered start?)
No oranges at aid stations (They instantly get me out of slumps!)
RACE SUPPORT: 8/10
RACE ORGANIZATION: 9/10
PRICE: 7/10 ($105.50)
BONUS: 8/10 (Course; Camaraderie; Finishline goods/goodie bags)
TOTAL: 32/40
OVERALL TIME: 6:08:30
PLACE OVERALL: 42/153
PLACE IN SEX: 32/99
PLACE IN DIVISION: 17/45
Tags: beer, best, brooks, cep compression, ethan, fast, fastest, finish, flyknit, gear, ginger, ginger runner, grit, how to, keira, leona divide, lunar 7, newberry, newton, nike+, north face, pearl izumi, PR, pure, pure grit, pure grit 2, race, ray miller 50 miler, ray miller 50/50, ray miller 50k, ray miller 50m, recap, record, review, run, runner, running, shoes, the ginger runner, train, western states, western states qualifier, what to wear, worst