I'm pretty sure that I am crazy. I decided to take on a one-day double century bike ride smack dab in the middle of my marathon training schedule. Why? Because I thought it would be a fun challenge. I guess that's if you consider torturing your body and social life a "fun" challenge.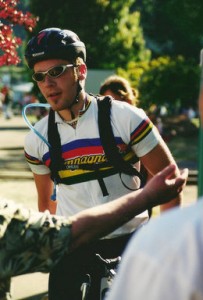 THE HISTORY
So the Seattle To Portland bike ride (STP as we call it) was my very first endurance challenge back when I was a teenager. I remember training for that race on my brother's beat-up old Cannondale, wearing MTB shoes, and barely knowing anything about cycling. I was naive and stupid. Regardless, I finished the race in one day. I don't know how I was able to ignore dehydration, starvation, pain, suffering and horrible butt chafe, but I did.
So jump ahead more than decade to the fall of 2011. My sister calls me and tells me her whole family just signed up for the STP two-day ride, and her son, my 19 year old nephew Jake, wanted to do it in one day. Oh man, I knew I was going to sign up for the one day ride the second I hung up the phone. No WAY I was going to let my lil nephew do this epic ride alone. Besides, it gave me an excuse to buy a bike, learn to ride again, and rock a double century. Oh, did I not mention I didn't have a bike? Oopsie poodles!
THE BIKE
So in October of 2011, I started my bike shopping. I knew my budget was less than $2000, I wanted a carbon frame, and I wanted a fast bike. I found a sweet BMC SL02 for sale over at CompetitiveCyclist.com and snatched one up right away. I fell in love with the frame design, the responsiveness and quickness almost instantly. This bike was a beauty! After training for a few months off and on, slowly bringing up my mileage like a good boy, my girlfriend – Mile Long Legs – got me a Retul fitting for Christmas (WHAT A GIFT!!). The second I went in, the fitter told me the frame was the wrong size and that the bike would BARELY be able to work with my body. Wait, WTF?
After some detailed discussions of leg length, torso length, arm angles, and a whole bunch of math, I too came to the realization that I had been convinced to buy a frame 2 centimeters too small for me. The argument by Competitive Cyclist was that "smaller = faster and more nimble". I heard "faster" and forgot about "comfort". On a double century, a rider's main concern will be long-distance comfort. Last thing I wanted was to ride 200 miles, 170 of which I was in crippling pain. I was fucked with this bike.
Seeing as Competitive Cyclist wouldn't take the bike back, for obvious reasons, I turned to local shops (none of which would give me more than 50% of what I paid) and Craigslist. In a matter of hours, I had an interested party willing to drive up to look at the bike. We met, they fell in love, and I parted ways with my first BMC, fully reimbursed! THANKS CRAIGSLIST! But the big problem: 4 months until the STP and NO bike (and likewise, little to NO training). What does a clue-less cyclist do in situations like these? Turn to the internet for the answers!!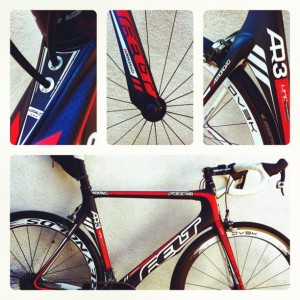 My decision to build my own bike came after endless days searching forums and stores for bike recommendations in my price range. The BMC I had originally bought was no longer available ANYWHERE in my new size. I was right back where I started and nothing was looking good. After looking at Specialized, Trek, Cervelo, Cannondale, BMC, Litespeed, and more, I finally fell in love with the Felt AR5. It was more expensive than I wanted to spend, but hot DAMN that frame is a sexy beast! I thought I might be able to find a used or older AR in my price range online. After a few days, a frame popped up on ebay. It was not an AR5, but last year's AR3 – a lighter, better looking version – and was BRAND NEW at a screaming price. Boom. Bid. Bought.
Thus began my first bike build.
I concocted a devious recipe for my dream budget bike: an AR3 frame, SRAM Force groupset, LOOK carbon blade pedals, Reynold DV3K wheelset, Conti 4000s tires, 3T stem, and FSA compact bars ALL for the price of a brand new AR5 (built with far lower grade components). Yes, I was spending more than the BMC, but I felt that I was getting a KILLER bike for a fraction of what it would cost retail. And boy did I ever. Sourcing my parts from online resellers, ebay, and craigslist, I managed to build a $4500+ bike for around $2500. I win. But I was also MONTHS behind training by the time I jumped on the bike for the first time.
TRAINING
The 204 mile STP was on July 14th. I started training on my bike May 25th from zero. Just learning to clip-in to my pedals took a week of trial and error (and a couple embarrassing spills). After running the Big Sur Marathon on May 18th, I got an awesome training guide from my coach, Eric at Rock Hard Runners, that would push me harder than I'd been pushed. I had to ramp up my bike mileage and simultaneously maintain my running mileage for the San Francisco marathon 2 weeks after the STP. Yeah, this was going to be hard. 6 days a week of running and biking long hours. Spending what felt like far more time in a saddle and on the trails than at home. Brutal. (I do realize that training for an IronMan is FAR more training than what I'm currently engaged in, so HUGE respect to those of you in that league. I owe you a beer or 5!)
In the end, the longest ride I had scheduled was a single 100 miler. This was far less than the STP-recommended multiple 100 and 125 mile rides over the course of 6 months. Needless to say, I was going into this double-century nervous and anxious to see if I had put in enough saddle time. Shit was about to get real.
THE RACE
The one-day riders started from the University of Washington parking lot at 5:45am on July 14th. Mile Long Legs drove my nephew and I to the start a few minutes early so we could do a last minute check on our bikes, make the necessary porta-potty stops, and ride up to the line. I was surprised at how few riders there were at the start. Out of the 10,000 STP riders, some 1,500 were also doing the one-day ride. It only felt like a few hundred joined us that morning. Regardless, before we had a second to relax, we were off on our 204 mile journey through Washington State and into Portland, Oregon.
The idea was to stop at every major sanctioned rest-stop to make sure our bikes were in order, our fueling and hydration was accurate, and our bodies had a moment to rest. As I mentioned earlier, neither of us had adequate training for a ride of this caliber, but we were pushing through regardless – and at a 20+ mph clip no-less!
Before I knew what was what, we were rolling into mile 50's rest stop. On a normal day, I would still be sleeping off a hang-over. On this day, I was refilling my water bottles from a garden hose and trying to down warm jamba juice. Yum. Ignoring a bout of nausea that settled in the second I stepped off the bike, I ran into an old college roommate – one that I ran my very first marathon with over a decade ago! He's still ripped. I'm still beer-chubby. Cool!
My nephew and I hopped back on our steeds and continued on. 25 more miles and the nausea began to wear off. No idea where it came from or what was up, but by mile 100, I was spry like a young lad once again! By this point my nephew was taking it a little easier having pushed pretty hard early on. We met up with Mile Long Legs at the half-way point, grabbed some lunch, and again, mounted our crotch rockets. Next stop was mile 145.
My nephew's pace picked up around mile 130 and we both were continuing to feel strong. That is until we reached the 145 mile stop. As soon as I dismounted, I knew I was in for a tough time. This wasn't so much a bonk as I'd felt in the past, but more of a "fuck this, I want to stop riding" sort of feeling. It sucks when all you can think about is how many more HOURS of riding you have to do! My heart rate was elevated, my fear of bonking was high, but after a good 40 minutes of lounging in the grass and talking myself down off the quitting ledge (with the help and support of my girlfriend and WAY to energetic nephew) I knew it was time to get back on the bike and push on.
And push on we did. We kept the pace fairly moderate, conquered the surprise rollers that didn't seem to end, stopped at every water station to refill (the heat had finally struck) and kept pushing through pain – both crotch and elsewhere. By the time we hit the St. John's Bridge, I was so delirius and ready to be off that fucking bike. We had been riding all day and now the finish line was only a few miles away. This is also where my already short fuse nearly cost me the finish. The last 6 miles of the race are riddled with endless stop-and-go intersections. Stopping almost every single block was not only tedious, but downright infuriating. Imagine approaching the finish line to a 204 mile bike race, able to see it a mere 30 feet ahead, then purposefully stopped by a race coordinator to let foot traffic cross the course. We had to stop for 2 minutes just FEET from the finish line. At that point, I was THIS close to punching a baby bunny had one presented itself.
After those 2 minutes of finish-line blue balls, I crossed with my nephew fairly anticlimactically. We did it. 204 miles on a bike in one day was under the belt and in the record books. We calculated a total ride time of just over 11 hours. Not BLAZING fast by any means, but I'm proud we broke the 12 hour mark! Time for BEER(s)!
REVIEWING THE STP
While I have run a number of marathons, half-marathons, and a number of varying distance trail races, I have only ever ridden in 2 sanctioned bike rides (the STP doesn't consider itself a race). Both were the STP. So really, I can only compare this ride to itself 11 years earlier, or to my running events. Take that as you will.
I want to start by saying a very special thank you to ALL of the volunteers that manned the rest-stops and water stations throughout the course for 2 days. I also want to thank every resident that lives along the 204 mile route as I'm sure you had a shitty time pulling out of your driveway those two days! And finally to all of the cities, large and small, that accommodated all 10,000 riders safely through your intersections, 4-way stops, bridges, pot-holes, and rail road crossings. You all deserve high fives!
To me, the STP is like an oreo cookie. The start and finish are the two stupid layers of cookie, while the stops along the route are the delicious soft white creamy middle. Ugh, that's such a stupid metaphor and I'd be lying if I didn't say I sat here for 15 minutes trying to think of an equivalent sandwich option that had delicious surrounded by lame.
Basically, what I'm trying to say is the race start could have been SO much better and the race finish was so aweful, it's made me reluctant to ever sign up again. But the middle 204 miles were a delight of both scenery (well, for the most part that is. A lot of industrial freeway action the last 30 miles is unavoidable I'm sure) and race support.
The start line could have featured loud music, tables with bananas, more porta-potties, water stations, bagels, coffee, better commentators, etc. For some reason it just felt, well, BLAH. Not a ton of energy by any means. As for the finish line, not only should they fix the intersection-finish-line problem I detailed earlier, but they could add bands, food, entertainment, food, showers, medals, drinks, food, and oh, did I mention FOOD??
As soon as my nephew and I rode our bikes into the finishing park, we hesitated to try and find the ACTUAL finish line. We were quickly yelled at to get off our bikes only to realize we had already passed under the finishline banner at the intersection stop 50 feet earlier. Talk about anti-climactic. Then a small patch was thrown around our neck. No medal, just a small boyscout patch. LAME. At that point, we just needed to sit down and try to get some food. Well, no luck. The only place to sit was on a small patch of muddy dirt that had bikes strewn about (many of which I saw THROWN around by race coordinators angry at riders for occupying the space – $10,000+ bikes, mind-you). Luckily Mile Long Legs was there to greet us and protect our bikes from the throwers while my nephew and I looked for post-race goodies.
Nothing. We managed to grab the last 2 small chocolate milk bottles, but otherwise NOTHING. No bananas, no bagels, no PB&Js, no muffins, no soup, nothing. And if there WAS something, there sure as hell weren't signs to lead us there. The closest thing I saw were a bunch of food huts set up by local restaurants who were charging for their fare. Fuck paying for finish-line food, I want the goodies, yo! The entire race we were fed like kings with more items than I could carry! But this finish-line was a bust. I also remember quick showers-in-a-semitruck at the finish when I was younger, but those were no where to be found (the next day I found them tucked along the backside of the park behind a bunch of tents and porta-potties. LAME.)
The one-day riders had it pretty bad at the finish, that's for sure, at least compared to most marathons I pay less for. Needless to say, I had to get out of that park as soon as possible in order to get my beer & pizza on. Jump ahead to the next afternoon when I returned to the park to greet my sister, brother-in-law and other young nephew as they crossed the finish line with the other two-day riders. Not only were there bands and entertainment, there was dancing, hoards of people partying, and plenty of post-race goodies to go around. WTF? They couldn't find an excuse to spread this party over two days??
Oh and the worst part was the jack-hole announcer at the finish line. He was SO rude and condecending to all the riders crossing the line that I was on the verge of running up, grabbing the microphone, apologizing to everyone for his crude asshole behavior, and taking over. In retrospect, I should have. How dare a finish-line announcer treat the announcing like his own personal stand-up show with incessant jokes at the rider's expense. Show them respect and let them bask in their HUGE accomplishment. How dare a finish-line announcer laugh at riders crossing the finish in tears because of the pain and suffering they put themselves through. How DARE a finish-line announcer comment to a larger rider that there's no way his friends will believe what he just did because of his size.
It was appalling. And it went on for hours.
But as soon as my family crossed the finish-line – also with stupid jokes being shouted at them in the process – we left the park in search of more friendly, beer-filled atmosphere. Thank goodness Portland is riddled with amazing breweries! I ended the long long weekend with a chilled JedIPA from Deschuttes in one hand, and a fork full of beer Mac N Cheese in the other. It was pretty much the only combination to help me forget about the pain in my legs, chafe in my crotch, and mixed feelings on a historic NW ride.
LIKED:
Beautiful course through some of Southern Washington's best locales.
AMAZING support and volunteers through-out
Great mid-ride aid stations
Fairly flat course
Easy Expo
DISLIKED:
Start/Finish lines festivals
Limited mid-ride entertainment
Lame schwag (weird jackets & no medals?!)
Waste of a timing chip fee (don't spend the extra $10)
Overall cost
RACE SUPPORT: 9/10
RACE ORGANIZATION: 7/10
PRICE: 7/10
BONUS: 5/10 (Lame schwag, finish-line, start)
TOTAL: 28/40
OVERALL TIME: 14:36:35
RIDE TIME: 11:15:42
PLACE OVERALL: 120-ish/10,000-ish
PLACE IN SEX: N/A
PLACE IN DIVISION: N/A
Tags: 10k, 2012, 5k, aero frame, ar1, ar3, ar5, best, bike, bike ride, centralia, century, cervelo, classic, cycle, double century, ethan newberry, f1, felt, finish, gear, ginger runner, gingerrunner, half, helmet, marathon, one day, pacific nw, portland, race, recumbant, ride, rider, riders, run, running, seattle, seattle to portland, seattle to portland review, shoes, solo, specialized, start, stations, stp, stp review, the ginger, TheSampler, tires, training, trek, two day, ultra, unicycle, wheels, worst