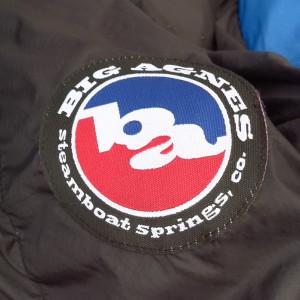 So as you may have read, Mile Long Legs and myself ventured northward to Yosemite National Park for some much needed hiking, camping, and all around outdoor mayhem (possibly fueled by beer). You might be thinking, "Ginger! This is a RUNNING blog! Why am I reading a camping gear review??" Well, because I consider long hikes and trail runs a part of my training schedule. Therefore, I felt it necessary to include reviews of these items for your viewing and educational pleasure. Now grab a brew of your own and get ready to plan your next outdoor adventure!
First of all, a BIG thanks to Gearist.com and Big Agnes, I was fortunate enough to utilize the opportunity to try out some killer Big Agnes mountain gear including the Copper Spur UL3 tent (review coming soon!), the Lost Ranger Sleeping Bag and the Two Track self-inflating sleeping pad. Let me start off by saying the combo of these last two items is a sure-fire hit. Comfortable, portable, durable and downright awesome.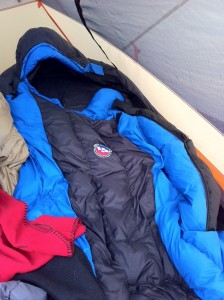 While in Yosemite, we were hit with every type of weather imaginable. Rain, cold, snow, more rain, and even some California sunshine. As much as it was detrimental weather for our hiking excursions, it was ideal weather to try out new equipment and put it through it's paces. Big Agnes gear is made in Colorado where a little rain and a little snow is their weather 'appetizer', so this gear SHOULD stand up. And it did.
I liked that the sleeping bag (15˚) provided plenty of warmth during the night despite getting moist from the changing weather conditions and snowfall. I never woke up with cold-spots or any sort of comfort issues. The shroud has a nice bonus sewn-in chin/neck pad that provides additional mummy-style cold protection. There's also a built in pillow case which I stuffed with clothing. I liked the build quality and the sizing options. As a bigger dude, the roomy fit and the square design is awesome. I often get a claustrophobic feeling in mummy bags when I need to move my legs or position my knees differently. Not so in the Lost Ranger.
As for the bottom of the bag, let there be a fair warning that Big Agnes bags do not have any insulation along the bottom. In fact, it's just a few thin layers of nylon microfiber. But this is on purpose. The bag is built to have one of the Big Agnes air mattresses slipped between these nylon layers to provide a perfect amount of back-cradling comfort as well as cold protection and heat retention. The sleeve forces the bag and pad to move together allowing you to get a good night's sleep without rolling off of the cushioning and on to the rock laden ground. The combination of these two items is a match made in heaven and a clever design. Unfortunately, my pad size and bag size didn't correspond so the pad had a noticeable bump towards the head. Just remember to get the SAME SIZE when ordering both.
My only gripe on this design element was that for those who don't necessarily have the budget for BOTH a bag and a pad (these aren't budget items), there should be that additional down layer between human and earth. Couldn't Big Agnes bags have both the down layer AND a thin nylon layer on the outside to accomodate a pad for those that have it? Or perhaps little sleeves at either end of the bag rather than one long sleeve the entire length of the bag? The good news is that the pad sleeve seems to accomodate pads of most makes and models so you don't necessarily need to go Big Agnes (though I would recommend it cause they be comfy!).
Overall, the bag is awesome and I plan on using it for my future camping trips. It's fairly light and compact (about 3lbs and 8″x8″ compressed size) which makes it perfect for the typical outdoorsman, but there are more suitable Big Agnes bags for the ultra-light backpacker. Definitely check out BigAgnes.com for more details on this and many other bags.
BIG AGNES LOST RANGER SLEEPING BAG:
LIKED:
Kept me consistently warm
Lightweight
Durable nylon material
Nice neck warmer addition
Variety of sizes
Great square shape / roomy interior!
DISLIKED:
Lack of back padding/fill (w/o addition of a pad)
Pillowcase was kind of small
Price
QUALITY: 9/10
COMFORT: 9/10
PRICE: 6/10
FEATURES: 7/10
TOTAL: 31/40
As for the pad on it's own, it's a self-inflating (still required some blowing-up which is normal) high density foam pad that provides tons of comfort. Seriously, I love this thing and plan on using it in most if not all of my camping expeditions from here on out. It rolls up nice and tight and comes with it's own carry bag. While not necessarily suitable for the ultra-light backpacker (2-3lbs depending on size), it does make an awesome addition to any excursion. Again, check out BigAgnes.com for more information.
A big thank you to Gearist.com and Big Agnes for the samples! Wonderful additions to any camping arsenal!
BIG AGNES LOST RANGER SLEEPING BAG:
LIKED:
Extremely comfortable
Lightweight
Durable
Self-Inflating
Variety of sizes
DISLIKED:
QUALITY: 9/10
COMFORT: 9/10
PRICE: 6/10
FEATURES: N/A
TOTAL: 24/30
Tags: agnes, bag, best, big, big agnes, camping, down, ethan, ethan newberry, ginger, gingerrunner, gingerrunner.com, hiking, inflatable pads, light, national, newberry, nylon, overnight, pack, pad, pads, Park, review, reviews, self-inflating, sleeping bag, sleeping bags, synthetic, the ginger, ultralight, worst, yosemite