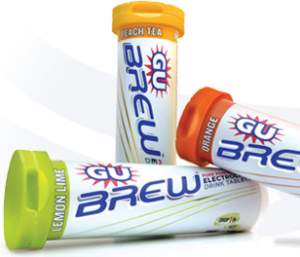 Yeah, I dunno about you but when I run, I sweat. Lots. Especially in the Los Angeles heat. So, I try to compensate for my loss of fluids by making sure to hydrate as much as possible every day by drinking plenty of water. Easier said than done. I'm also pretty stubborn. Drinking plain ol' water can be boring and having to shove so much of the same liquid inside me makes The Ginger angry. GINGER SMASH!
Now during rigorous exercise, just drinking water isn't enough. Not having enough electrolytes in your system before a big run (or ANY run for that matter) can result in the good ol' "bonk". I've bonked before during a marathon and it wasn't pretty. Ever since, I've been pretty conscious about hydrating days before a big event or big training run by gettin' in water and plenty of those lil electrolyte bad boys. The mistake most people make – myself included – is using Gatorade or some sugar-packed sports drink to hydrate. Wrong. I don't think I need to tell you how bad sugar is for you. So it puts us into a dilemma of how exactly to get our electrolytes into our bodies. In steps companies like GU Energy Labs to the rescue!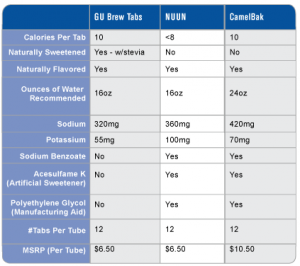 A welcome addition to the electrolyte replenishment world has been GU Brew. A powder that you can mix up with water before, during, and after a race or run. It tastes nice and does everything it's supposed to do w/ a minimal caloric impact at 100 calories. But now, GU Energy Labs was nice enough to send GingerRunner.com some samples of their new all natural product, The GU Brew Electrolyte Tablets. They offer the same benefits of the Brew powder, but in an amazingly convenient tablet form (and ONLY 10 CALORIES!). Drop one into a glass of water anytime to get those electrolytes runnin' through your system or drop one into your water bottle during a race to have a gently flavored sports drink that's easy on the stomach and tastebuds. The convenience of the tablet form alone makes these a big ol' recommendation from me.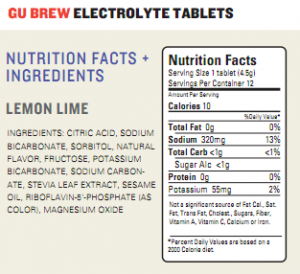 In addition to throwin these tablets into my regular runs, I had the opportunity to use the tablets on my last 17 mile training run. They worked fantastically. My only real gripe was that I didn't bring a second tablet to use when I refilled my water bottle! I've tried both the Lemon Lime flavor (yum) and the Peach Tea flavor (double yum!). The peach tea was my favorite because of the slight tartness they gave my mouth. It was a nice bonus every time I sipped some of the juice. At no point during the long run did I feel close to bonking or dehydration.
Now, remember, these are not meant to replace any sort of caloric burn during long bouts of exercise. Be sure to use in conjunction with your regular nutrition (ie Gels, Bars, Jellies). The good news is that since these tablets are so easy on the stomach you won't necessarily have to worry about combining them with your regular nutrition and getting any sort of "complications". I'd definitely recommend getting some for training before you just use them in a race to make sure your body knows what's up. My ultimate thoughts: BUY SOME.
LIKED:
Convenient Tablet form
Peach Tea flavor
Easy on the stomach
Low in calories
Affordable
DISLIKED
Don't carry a spare tablet when it rains (fizzes in yo' pocket!)
Only 12 per tube
Taste: 9/10
Does It Work: 8/10
Convenience: 9/10
Price: 8/10
TOTAL: 34/40
Disclosure: A review sample was provided by the manufacturer.
GIVEAWAY TIME!
Do you want some of these delicious tablets of your own to try? It's EASY! I'm giving away a free tube of any of the 3 flavors you want. All you have to do is:
I will collect all of the responses by MONDAY APRIL 4th at 11:59pm PST and choose the response that I like the best (and gets the most laughter outta my ginger face). So get creative, get writing, and win yourself some FREE GU Brew Electrolyte Tablets, people!
*UPDATE* Congratulations to Bob Ross for winning the free GU Brew Electrolyte Tablets just in time for your half marathon! More giveaways coming soon, people!