This pack is awesome. While it fits more like a vest (which I'm glad to see is the new general trend in hydration packs overall), the XA Skin Pro 10+3 pack has quite a few bells and whistles that take this pack to the next level. I've been playing around a lot with various hydration systems and so far, this one is my go-to for the long runs. I've managed to stick pants, a jacket, trekking poles, food, gloves, and various other items in this pack for recent summit hikes and I've consistently been surprised with how much it can hold tight.
It has plenty of storage, a 1.5l water bladder (by Hydrapak), plenty of flexible straps for a custom fit, and is durable beyond a trail runner's needs. I've run races, long training days, summitted mountains, and raced through horribly inclement weather with nary a problem. While pricey, the Salomon XA Skin Pro 10+3 pack is an awesome long-haul hydration solution.
LIKED:
Comfortable
Storage
Expandable
Sternum Straps
Light
Insulated Bladder Sleeve
Underarm Hydration
DISLIKED:
Shoulder Adjustment
More Pockets
Hip Pockets
Flappy Straps
QUALITY: 4/5
COMFORT: 4/5
PRICE: 3/5
LOOKS: 4/5
TOTAL: 15/20
This item was provided by Salomon Running for review. All opinions are my own. For more info on the item, visit: SalomonRunning.com and be sure to subscribe to my YouTube channel HERE.
GIVEAWAY WINNERS!
I held a fun giveaway for the Salomon Running Agile 7 hydration pack and asked you to submit your best photos of you in need of some serious hydration. I LOVED all the photos you submitted across the social networks and email, but I had to narrow it down! Below are the Grand Prize winner (they will receive the Agile 7 Hydration Pack), the Runner Up (they will receive a custom Ginger Runner tshirt) and the Honorable Mention (they will receive the biggest and most bad-ass virtual high five from myself and all who have ventured here!). Thanks again to ALL who entered. Stay tuned for many more giveaways!
GRAND PRIZE WINNER – JT Peebles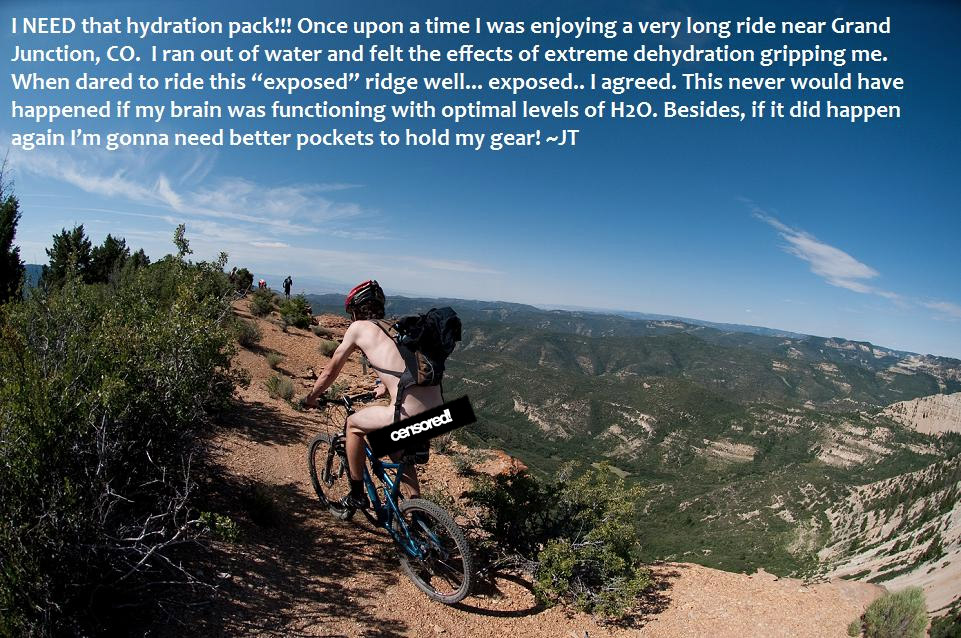 Let's be honest, to have the balls (pun intended) to send me a photo of yourself naked riding a bike across a mountain top deserves a win. Notice the folks ahead? They got far more "view" than they intended (pun intended). Got to give a guy credit for going the extra inch (pun intended, again).
RUNNER UP WINNER – Ethan Hodge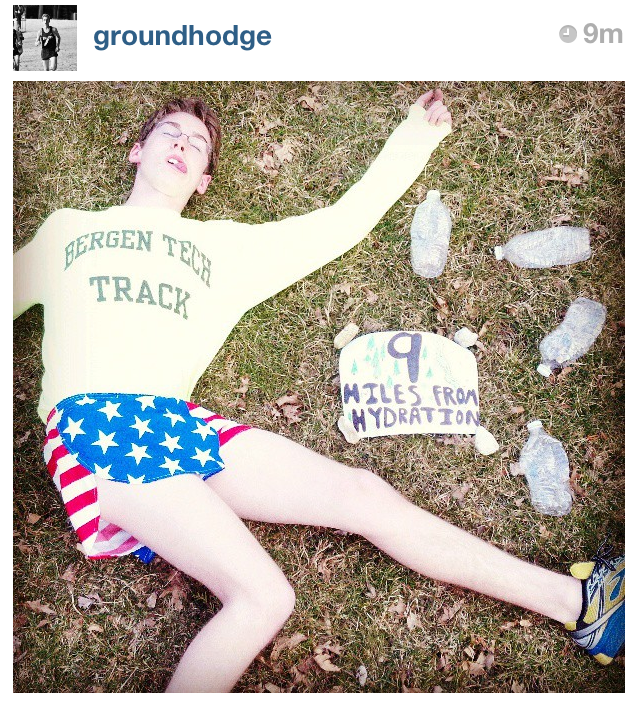 Love the creativity on this one, the confidence in showing so much pasty leg (trust me, I can relate) and the pride in his nation. Ethan Hodge, for your photo you will receive a brand new "Train. Race. Bacon." tshirt!
HONORABLE MENTION – Clinton Munkres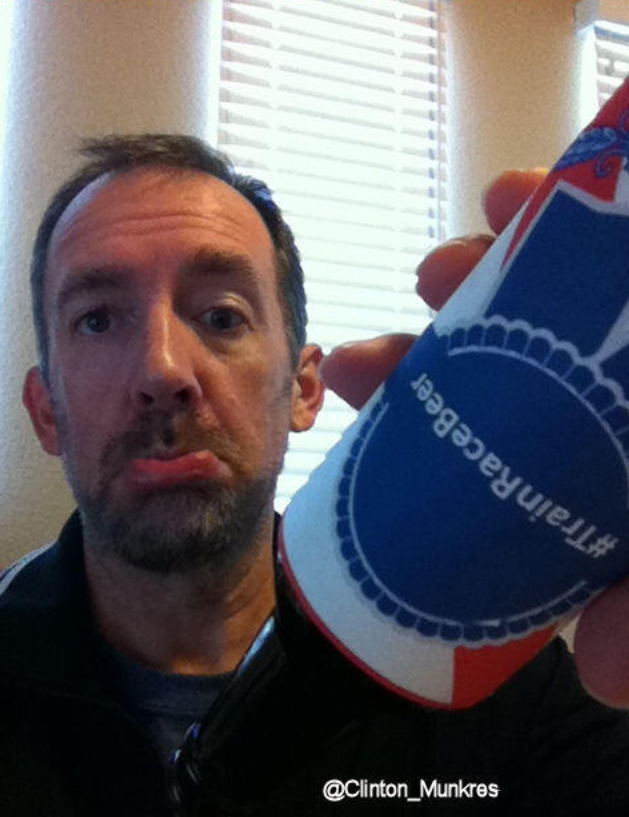 Clinton, I had to post this photo. I don't know if I've ever seen anyone so sad that they were out of PBR. Nice touch with the "#TrainRaceBeer"!!
AGAIN, thank you to all who entered! Stay tuned for more great giveaways right here!