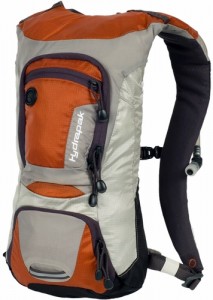 PRICE: $74.99
Long gone are the days of having to lug water bottles around with you on trails or stashing fuel in bushes on long training runs. There's been an onslaught of decent hydration packs on the market for the last few years, and even more recently some packs built with the ultra runner/trail runner in mind. The Hydrapak Selva is a decent addition to the fray – despite being primarily an off-road cyclist product – and shouldn't be missed in your hydration pack consideration.
So a few weeks ago, the awesome folks at Hydrapak gave me an opportunity to try out one of their products. After perusing their line-up, I opted for the Selva because of it's decent storage capacity in addition to light weight (a measly 15oz). There's PLENTY of room to stash a light jacket, some energy bars, gus, an additional water bottle, a camera, and anything else you might need to lug out onto the trails for a run/hike. It's made of quality materials and has the snug fit necessary to keep the contents from jiggling around on my back when I'm flying like a gazel down the trails.
I liked that this pack had plenty of water storage (70oz) in their awesome "Reversable Reservoir II". This thing didn't leak in the slightest and kept the contents nice and cool the entire time. Even when I run out in 85 degree weather (or hotter), the liquid would still come out tastin' chilly. I need to fill this thing with beer and take it out wherever I go! I also REALLY dug the magnetic strap connector (Quantum Clip) that allowed the drinking tube to stay connected to any strap on the pack. It would stay attached until I was ready to drink, I would pull it off to chug, then when I released it, it would pop back over to the magnet and stay until I was ready to drink again. Really neat feature!
The pack overall was fairly comfortable. While I like the extra padding in the shoulders, I felt it made the shoulder straps a little cumbersome. The shoulder straps felt a little too close together and would rub along the base of the back of my neck. A little adjusting and getting the straps lengthened properly helped in remedying the problem, but that lead to other strap issues elsewhere. This isn't necessarily a Selva problem, as much as it is a problem for all hydration packs in my opinion. I want a pack that is built for a runner, shaped to the contours of a human's back, and designed to wrap AROUND me rather than ON me. I'm sure Hydrapak has some runner-specific models coming in the future.
Regardless, I really like the pack and will use it on future trail runs. You can't beat the prices of the Hydrapak products and quality is up there with the rest. Check out Hydrapak.com for more products and links to where you can buy yours! Also check out their cool new innovation, The Gel-Bot, which is both a water bottle AND a gel bottle in ONE! Can't wait to try it out!
LIKED:
Tons of storage in a small package
Light weight
Strong fabric
Big reservoir
Orange!
DISLIKED
Thick shoulder straps
Not a perfect fit on my body
Designed for biking but works for Hiking/Running
QUALITY: 8/10
COMFORT: 8/10
PRICE: 8/10
LOOKS: 8/10
TOTAL: 32/40
Disclosure: A review sample was provided by the manufacturer.
Tags: .com, 10k, 25k, 50k, best, camelbak, distancia, ethan newberry, forerunner, ginger, ginger runner, gingerrunner, gingerrunner.com, half marathon, hydrapak, hydrapak selva, hydration, hydration pack, ironman, marathon, newton, review, run, runner, running, selection, selva, solutions, trail run, trail running, trailrun, trailrunning, training, ultra