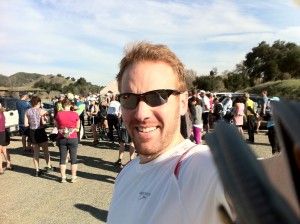 What's the best way to prep for a race the day before the gun? Drink beer. Amazing, high alcohol percentaged beer. And that's exactly what I did the night before the Pacific Coast Trail Run's Malibu Creek 10k. Way to go, Ginger. I think you found the secret to a new PR!
So I signed up for this 10k pretty late – if I remember correctly it was about a week or 2 before the event. I don't normally do this unless it's a shorter distance race and I know I won't have a problem with prep. In this case, I might have taken that for granted. This 10k being a trail run – and one that I had run before, mind you – I forgot all about the pretty intense elevation change early on in the course. This would bite my ass.
A few days before the race, I was determined to hydrate and eat the appropriate balance of slow-burning carbs and proteins. Apparently, my determination needs some work. I kept telling myself, "Hey, you've run this before. You did well. You're in better shape now than you were back then. You'll be great!" which resulted in poor diet and improper hydration. The night before, after an extremely long day of work, I decided to partake in some delicious celebratory brews with friends. One turned to 2, which turned to 3, etc. These weren't the PBRs you see frat boys, poor blokes, and pussies drink. These were perfectly concocted micro-brews that needed drinking by those of us graced with god-like beer enjoying taste buds. Slurp!
Cut to the next morning at 6am. Ugh. Like a zombie rising from the crypt, my body creeped it's way from under my duvet. I attempted to lift my eye-lids wide enough to make sure my feet were both under me before standing. I hobbled to the bathroom to brush my teeth, shower, and apply the proper amount of Astro Body-Glide. Oh man, did I regret drinking what I did the night before. But like a true racing champion, I nutted up, got myself together and gathered my race gear. It was time to attack the mountains and see if I couldn't better my time of 1:00:57 at Malibu Creek.
I managed to avoid the $12 parking fee (rape) by parking down the street a ways and walking into the state park. Smart choice, it looked as though the rangers had arrived late and the parking line was pretty long. I decided to forgo my Newtons for this race seeing as the trail was unpredictable and I don't own a pair of Newton's trail shoes (Terra Momentus). I opted for my Kinvaras seeing as I didn't care how dirty they got, the trails weren't going to be TERRIBLY rocky, and they provided decent downhill cushion.  I knew I wouldn't need my deep lugged La Sportiva CrossLite 2.0s on this run because the trails aren't soft at this park and it wasn't going to be muddy at all.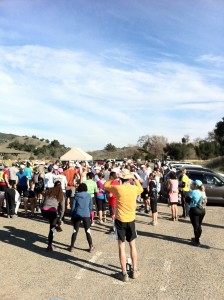 When we gathered at the start, I could still feel the effects of the previous night's brews. Thank god I had my Hammer Heed sports drink in hand! In addition, I began to notice my racing company. There were considerably more people running the race this time around (most likely preparing for the following weekend's LA Marathon), many of which looked like this wasn't their first rodeo. I overheard some of these grizzled racers confess multiple ultramarathon podium finishes and I knew I was in a different league than before. So much doubt poured into my mind about my ability to not only PR this course, but finish at all!
Before I knew it, it was our turn to take off from the start line. I quickly stepped towards to front of the forming herd and hoped to at least maintain a decent pace. BANG. And we were off before I knew it.
My pace was pretty quick the first mile, which scared me. I know how I run after a night of drinking – not well. If I went out too quick, I'd waste any energy reserves I had stored up and would bonk pretty quickly. By the time I thought to slow my pace, we were already at the first climb. It starts right around the 1 mile mark where the trail goes from fire road to single track. This climb smacked my face like a cold bitch. Boom. I was already exhausted. But I kept pushing. Perhaps it was the young, pretty looking couple in Vibram Five Fingers hot on my tail that kept me moving up the steep incline. Yup. It was them. I hated them. Well, not really, but I WAS able to channel my focus and agression towards their perfectly tanned bodies and annoying antics enough to keep me ahead of them.
By the time I had reached the top of the climb, I was spent. I had to take a couple of breathers. The good news was that only a few steep downhills, some unexpected mud pits, a few more intense climbs, and the glorious final descent remained. I could do this. The hard part was behind me and the fun parts were ahead. The best part was feeling the distance grow between the beauty douches and myself on every downhill. Their VFFs didn't allow them to really open up their downhill gate, whereas my Kinvaras were brilliant in that respect. I hauled.
The last mile (which is a reverse repeat of the first) was pretty hard now that the sun was beating down, my legs were spent, and the hang-over was overwhelming. I passed a few spectators along the trail who were hootin' and hollerin' that I was in 7th place – which was a HUGE surprise to me. I could have sworn there were at least 10 people ahead of me, but fuck it. NICE. Thanks to the adrenaline rush, I turned up the juice a lil more. As I rounded the final turn, I got a glimpse of the official clock and nearly orgasmed. nearly 3 minutes faster than my previous PR!
BOOM! I crossed the finish line pounding my fist in the air with a brand new 10k trail PR: 00:58:10. I finished 7th overall, and 4th in my age group (Fuck this age group I just joined! Put me back in the little leagues!).  I'd like to think those extra beers I had the night before assisted in my time. In retrospect, I'm sure they did nothing but hurt my time. But, it wouldn't be a GingerRunner.com finish without the partying, am I right? Right.
Train hard. Race harder. Party hardest!
As for the race, I have nothing but fantastic things to say about it. It's a small event, with limited volunteers (though they work their ass off – THANK YOU!) and limited amenities. They do mention this fact upon sign-up. If you show up unprepared for the 10k, 25k, or 50k events, it's your ass, not theirs. Bring your own hydration, fuel, and crew if you need to. It takes place in a gorgeous state park, with fantastic mountain views, on quiet, uncrowded single-track. What more could you ask for?
LIKED:
The gorgeous mountain location
Well maintained trails
Small number of participants
Affordable
DISLIKED:
Out & back, rather than a loop (10k only)
Not every turn is marked properly
$12 Parking
No medals for all participants
RACE SUPPORT: 6/10 (only at home-base aid station)
RACE ORGANIZATION: 7/10
PRICE: 8/10
BONUS: 6/10 (views! small size!)
TOTAL: 27/40
TIME: 0:58:10 (10k trail PR)
PLACE OVERALL: 7/100
Tags: 10k, 25k, 50k, 50m, beer, BQ, distancia, drunk, ethan newberry, fast, ginger, gingerrunner, gravitas, hangover, hungover, isaac, kinvara, la sportiva, malibu canyon, malibu creek, marathon, minimus, new balance, newton, pacific coast, pacific coastal, PR, race, run with a hangover, the ginger, trail run, trail runs, ultra, ultramarathon