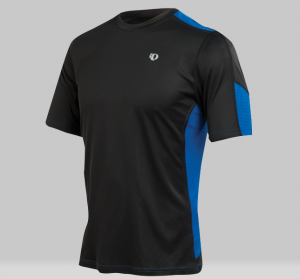 PRICE: $33
One of my favorite running shirts of all time is a white Pearl Izumi long-sleeve top that I purchased probably 8 years ago. The shirt has withstood the test of time and all the abuse that I've thrown at it since its purchase. I mean, I have put that shirt through some SERIOUS sh*t! After wearing the new Pearl Izumi Phase SS sport top for a number of runs, I can safely say this shirt will follow suit.
The amazingly comfortable SELECT transfer fabric used to make this shirt is obviously much more advanced than the moisture wick of yesteryear. In addition to that, the ventilation fabric in high-flow areas is spot on and a needed bonus in the hot LA sun. Seriously, the small squares of vent fabric up on the shoulders allow a huge amount of wind to blow down along your back and out the side vents keeping you cool on those boiling sunny days. It feels like you have a fan blowing down your back keeping the sweat in check. Love it.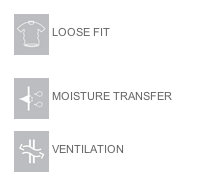 My only real gripe with the top is it's loose fit. The shirt is designed to hang a little looser so it's not cinching to the body too snugly. I like a top to hold to my body a little tighter so it doesn't flop around on speed days. Also, I like to avoid the nip-chafe caused by a large percentage of loose shirts (note: this shirt DID NOT make my nips chafe). The benefit of a loose shirt is that it is wearable in situations OTHER than running as well.
The fabric has a nice sheen to it and the labeling is light reflective for those night runs. It's an extremely comfortable shirt and I highly recommend it to all of you who are runners or outdoor enthusiasts. The good thing is that Pearl Izumi has a smorgasbord of styles, cuts, and colors of running gear. I hope to get my hands on some of their shoes to review as well. Check out PearlIzumi.com for more products and info. They do running and biking gear right.
LIKED:
soft, comfortable SELECT transfer fabric
vented sleeves/sides
well made
color choices
DISLIKED:
QUALITY: 8/10
COMFORT: 8/10
PRICE: 8/10
LOOKS: 8/10
TOTAL: 32/40
Disclosure: A review sample was provided by the manufacturer.
Tags: best, bike, biking, ethan newberry, ginger, ginger runner, gingerrunner, izumi, moisture, pearl, pearl izumi, phase, phase ss, review, runner, running, short, short sleeve, sleeve, ss, top, tri, whick, wick