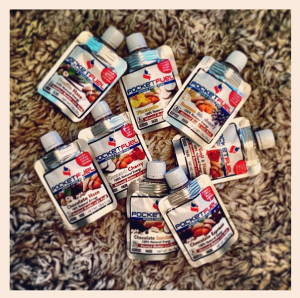 The more I run, the more time I spend out on the trails and the more I learn about how my body operates under stress, the more chances I have to test what sort of nutrition works with my system. Over the last year, as I've increased my mileage from week to week, I've found myself in a number of tough spots nutritionally (read: feeling like SHIT). I continually experiment and try to find solutions to my body woes, but it's been a long, on-going process. But, there have been a few items that I know work with my body, one of which is PocketFuel.
A few months before my first Ultra Marathon while I was visiting Vancouver, BC, I stopped by my buddy's running store, Distance Runwear (if you're in Vancouver, give Dave your business! He's awesome!). He had a product on the shelves that I hadn't seen/heard of before, PocketFuel. The little silver packs, with resealable tops (!!), looked to be an awesome solution to some of my nutrition woes and I was stoked to try it.
I love me my GU gels and chomps (Use them for EVERY race) and I love aid stations with real whole food like watermelon and oranges. Thanks to PocketFuel, I can have the best of both worlds. They have taken all natural whole food ingredients, from nut-butters to fruits, combined them in 8 delicious flavors (well, 7 delicious and 1 Chocolate Espresso that's just a little intense for my pallet), and put them into small 1.8oz REUSABLE packets (also 3oz & 20oz options) for easy consumption and travel.
If I'm headed out on any run/hike that's longer than an hour or so, I will pack a PocketFuel or 2 either as mid-run fuel or as calories immediately following the adventure. I love that I'm getting a mini-meal in a pouch and have come to depend on them as a primary calorie replenisher when my body is in dire need of real calories. They are dairy & gluten free, vegan, and delicious. I'm pretty sure that's the key like for me, FLAVOR & TEXTURE. Yum!!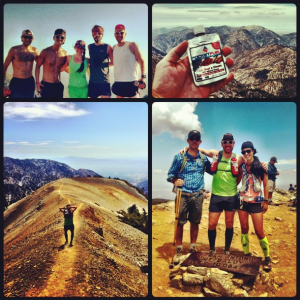 I do have a few gripes that I've come to live with, but I'll point them out not only for your own knowledge, but in hopes the rad folks at PocketFuel read them and try to address them! First of all, the plastic tops. Is it just me or am I unable to get ALL the goodness out of the packets?? I squeeze and I suck but no matter how hard I try, I feel like I'm leaving a good mouthful of fuel still in the packet just below the plastic tube dispenser. Frustrating. (UPDATE: Just got word from PocketFuel that this issue is being worked on and a redesigned pouch is in the works! Can't wait!)
Secondly, having to "squish & squeeze" the contents of the pouch for a good few minutes before consumption kind of sucks. I understand that it could be a potential side effect of using real whole food, but I usually have to prepare to down my PocketFuel by massaging the pouch with great vigor for a bit. And if the weather is cold, good luck. Best bet is to keep the pouch in a pocket close to your body for warmth to keep it malleable. It's worked for me in the past.
All in all, I love PocketFuel. I always have one on hand for whenever I need delicious natural energy. I've even experimented with the pouches in recovery shakes and on ice cream! I also have to commend the PocketFuel crew for being awesome on Social Media and "getting" it. That speaks volumes about a company, big or small. Go check them out and let them know the Ginger Runner sent ya!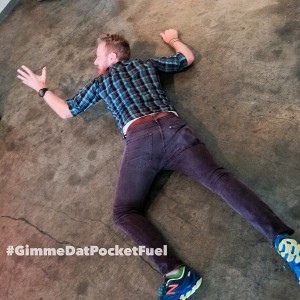 POCKETFUEL GIVEAWAY (NOW OVER!)
Ok, this one is gonna be fun! The awesome crew at PocketFuel has agreed to give away a sample pack of their 8 flavors to one of you! I'm stoked to share the deliciousness.
It's IM KONA 2013 weekend, I have my first 100k this weekend, and I know a LOT of you around the world are racing this weekend as well. That's why I'm gonna leave this contest open until Monday night (10/14/13) at midnight (pst). And as it is with all of my giveaways, I demand creativity!! Be sure to read all the rules before you enter. You can enter once from each of the 3 social media platforms I'll be using.
This giveaway is over, I appreciate all who entered!!