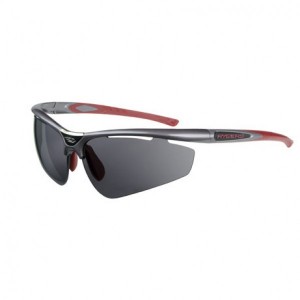 Price: $59.99 (retail)
I never thought that I would replace my Oakley Half Jacket sunglasses as my go-to sun protectors during runs. Well guess what? I think I've become a full fledged Ryders eyewear fan. It took me awhile to get used to the aggressive look of my Ryders Cirrus. The lenses are wide, the colors are bold, and the sensation of wearing a pair is…interesting at first.
Here's the deal: when I first started running a lot down here in Souther California, I knew that I was going to have to invest in a pair of decent running shades. The sun was just way too bright for my ginger-vision. Knowing the brand and following Oakley has in the sports market, I danced into a pair of half jackets. They're awesome. Very light, cool looking, and make me appear as enough of a running douche on my runs, that it looks like I MIGHT know what I'm doing out there. I've had them for a few years now and wore them religiously.
Then came Ryders Eyewear. They offered to provide me with a new pair to test out. I thought I'd give 'em a shot figuring I could stand to change up my eyewear douchiness. When I got my pair of the Cirrus, my first impression was that they were a little too weird looking on my face and seemed more up a cyclists alley due to their size. So I swapped back and forth between my Oakleys and the Ryders over a few weeks to give them a fair shot.
Well, after awhile, I found myself reaching more and more for the interchangeable lensed Cirrus. I could swap in the amber lenses or clear lenses if the weather called for it (until my dog ate the pair of clear lenses. Dammit!). It wasn't until recently when I sat down to write this review that I realized just how little I use my Oakleys anymore. Hell, I don't even know where they are at the moment! The Ryders Cirrus are an awesome, AFFORDABLE pair of sports eyewear that I would recommend for everyone. Be sure to check out their whole array of other styles too!
I think what I've ended up liking most about these shades is what I was worried about on first impression. They are very aggressive looking. They are extremely light and flexible. And they are NOT Oakleys. I love them. They offer great sun protection, a nice wrap around feel, and are a bold addition to my running arsenal. Now if only I could get my hands on a white pair of Ryders shades!  ME WANT! Visit RydersEyewear.com for more products, information, and pics.
LIKED:
Aggressive look and fun styles
Extremely light
Easy interchangeable lenses (included)
Easy to clean
AFFORDABLE
DISLIKED:
Took awhile to be ok with looking like a badass
QUALITY: 8/10
COMFORT: 9/10
PRICE: 9/10
LOOKS: 8/10
TOTAL: 34/40
Disclosure: A review sample was provided by the manufacturer.