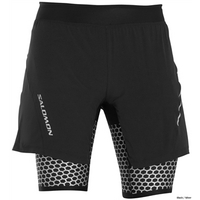 Wow, I never thought I'd say this, but I may want to marry a pair of shorts. The two of us had a scrumptious, albeit brief (haha, get it!?), love affair over the last 2 months and I think their the one. I'm in love. With a pair of shorts. Now I can't just say this without telling you why, now can I? Here's my ye' olde review of the Salomon EXO II Wings TW shorts.
SALOMON EXO II WINGS TW SHORTS
Price: ~$95
These aren't your regular running shorts, they've been strategically designed to incorporate Salomon's EXO compression fabric technology. The shorts also incorporate an 'over-short' material that makes them appear as though you're wearing 2 pairs of shorts while retaining the lightweight, comfortable feel of one. The idea behind the compression is to essentially keep your quads and upper leg muscles firmly in place over long distances to reduce fatigue and energy-loss as well as increase recovery. My big test for this feature was to utilize the shorts during the San Francisco Marathon.
When the shorts first arrived, I was skeptical on the material used in the EXO SENSIFIT areas. It's texture is more of a 'net' type material, rather than a nylon or spandex type material. My concern was that the material would chafe my skin over long distances or become uncomfortable. In addition, the short's medium size (I regularly wear mediums in shorts) felt very tight on my big ol' booty. I made it a point to do a majority of my marathon training runs in these shorts to make sure I wouldn't have any race-day problems.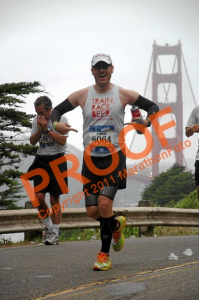 As my distances and durations in the shorts increased, I became more and more comfortable in them and thus the spark to our love affair was born. I figured out how to properly pull the up and get the seams in the right areas of my legs to maximize comfort. While we had our little arguments – the crotch seam was so tight that it proved difficult to fully squat, the back pocket can't hold the amount of supplies I would have liked, and some internal seams and tags still caused chafing – the shorts and I were destined to be together.
Come marathon day, I was excited to give the shorts a real race-day performance test. Going up and down the city streets of San Fran put my quads to the test with some relentless impact, but despite rockin the 26.2 miles, this was the least sore I've been post-marathon yet. I'd like to think my unwavering leg strength and mental prowess, a smart plan of attack on the race, and a little ginger magic made this happen. In reality, I'm sure it was the shorts.
For future iterations of the shorts I would:
recommend removing the inner tags (put them on the inside of the outer layer, rather than inside the compression)
add a zipper to the back pocket or split the center pocket into two back pockets to accomodate more supplies/gels
smooth out and elasticize some of the seams for more crotchal comfort
Other than that, go try these out. They're a dynamite compression short perfect for long distances over varying terrain. While a little pricey overall, I fell you get what you pay for. Ginger like.
LIKED:
extremely comfortable
compression ability rocks
modest design
look awesome
DISLIKED:
internal tags
back pocket is hard to keep items in
some seams don't stretch fully/at all
price
QUALITY: 9/10
COMFORT: 9/10
PRICE: 7/10
LOOKS: 8/10
TOTAL: 33/40
For more information about this product, visit SalomonRunning.com, follow them on Twitter, or visit their Facebook. There is always cool stuff going on with them! Disclosure: a review sample was provided by the manufacturer.