Without giving too much of this review away in the first sentence, Salomon freakin' NAILS trail running apparel. Ok, now that I've blown my wad and spoiled everything, I'll get more specific.
Being known for their affection for hardcore trail runners and outfitting some of the best ultramarathoners in the world, Salomon has a reputation that precedes it. Because of this, I've wanted to get into some Salomon gear so I could try it out and see if 1) it's worth the price premium & 2) if it lives up to the hype. Well, I'm happy to say it's a bit of both. Based off my feelings on the two items I got a chance to review, I'm extremely excited to try out more of their equipment (hopefully some trail shoes and their Exo SensiFit technology) and put it through the same wear and tear a normal ginger-haired distance runner would.
SALOMON TRAIL RUNNER II 1/2 ZIP TECH TEE
Price: ~$44
When I pulled this sucker out of the box, I was blown away by how light and airy it was. I didn't even have to put it on to know I would love the way it felt on a hot, long run. Sure enough, after some long heated trail runs and road training, the shirt felt awesome. Now a consequence of the lightness is the fabric Salomon uses (actiLITE) which can feel rough under the finger tips. The good news is that they use two versions of the fabric throughout the garment. In the high-wear areas is a smoother, softer version, while in the venting areas is the rougher, more aerated version. They were smart with this. The end result maintains it's light weight while staying comfortable and lacks any chafe-age.
As for functionality, the shirt has two long chest pouches you can use to store gels, electrolyte tablets, or pens & pencils. Whatever floats your boat. I stashed gels in here on a few runs and didn't notice any discomfort with them being close to my nip nips. The tech tee also has a nice zip-down chest for those days you need a bit of extra breathability (I used this on multiple occasions for both venting and wooing the ladies). The stitching throughout is rugged and strong and one seam has a nice reflective strip for night running.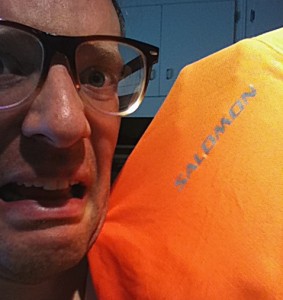 I love the look of Salomon garments, with cool offset colors and patches. You can tell they're not only creating good quality pieces, but taking pride in the appearance of their athletes as well. The tech tee they provided me was the one exception. I received the bright red top with the one ketchup and mustard colored sleeve. Now if I were to see this in the store, it would be the one garment I would leave on the rack and not give a second thought. Putting it on and seeing it on my body only solidified that choice. While all other garments in the Salomon line-up are awesome and cool looking pieces, this one made me feel like a trail running hotdog. And I'm a vegetarian. No likey.
The only other negative would be odor protection. A lot of garments are coming out (including Salomon socks) with odor resistent "nano-technologies", I'd love to see this garment include that. After a run, I felt like I was a walking Pepe Le Pew with waves of hot stink rolling off of me. Even more-so than my regular running shirts from Brooks and Saucony. My only guess was that there is less fabric for odor to grab on to, so it's concentrated and distilled stink I'm getting post-run. Ew. But I'm no scientist, nor claim to be one. A minor gripe.
Regardless, the garment speaks for itself in every other capacity. I would say it is worth the extra $$ to get a piece  you can trust and look forward to wearing for years to come. I hope to get to try out more in the Salomon line!
LIKED:
extremely lightweight
front pockets
zipper
durable
DISLIKED:
color design of review item
odor sucker
QUALITY: 9/10
COMFORT: 9/10
PRICE: 8/10
LOOKS: 7/10
TOTAL: 33/40
For more information about this product, visit SalomonRunning.com, follow them on Twitter, or visit their Facebook. There is always cool stuff going on with them!
SALOMON XA PRO TRAIL SOCKS
Price: $12-13
I've become a sock junky over the last year or so. I've tried everything from thick to thin, compression to dual layer, bright, dark, padded, cushioned, primped, permed, etc. This was my first pair of Salomon Pro Trail socks and I liked them a lot. I'll be totally honest and say that while some socks claim to have 'multiple features your feet will love', I'm really hard pressed to notice subtle differences other than thickness, weight, and fabric. I like a middle to lightweight sock, that is breathable and moisture-wicking, and doesn't retain dirt or grime from a good dirty trail run. This sock fits each of my requirments.
The socks are light, medium-thin thickness, and dark in color. The added benefit of a flattened toe seam is a HUGE bonus (NO BLISTERS!). The materials used throughout are quality, well stitched and obviously thought out. These are comfortable lil buggers and I would recommend them to ANYONE that runs long & hard, and looks for a sock that won't blister, stifle, or slip. These rock.
LIKED:
extremely comfortable
flattened toe seam
blister protection
don't show dirt
DISLIKED:
can be pricey for 1 pair
dirt flap on heel is pointless (too high)
QUALITY: 9/10
COMFORT: 9/10
PRICE: 8/10
LOOKS: 8/10
TOTAL: 34/40
For more information about this product, visit SalomonRunning.com, follow them on Twitter, or visit their Facebook. There is always cool stuff going on with them!
Disclosure: review samples of both were provided by the manufacturer.
Tags: apparel, best, brooks, camping, dual layer, duallayer, ethan newberry, gear, ginger, ginger runner, gingerrunner, hike, kilian, marathon, review, salomon, saucony, shirt, shirts, shoes, sock, socks, trail, trail run, trail runner tech tee, trail running, ultramarathon, western states 100, ws100, XA Pro Trail, youtube, zip