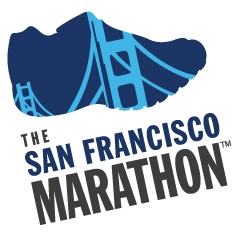 Things I now know because of the San Francisco Marathon: I know nearly every square inch of San Francisco. I know what it feels like to cross the Golden Gate Bridge. Twice. On foot. I know what it feels like to finish a race without wanting to die as soon as I cross the finish line. Finally, I know what it feels like to have a favorite marathon.
When I started running again as an adult almost 2 years ago, The San Francisco Marathon was always a race I wanted to defeat, but was always scared to commit to. 26.2 miles running through one of my favorite cities on the planet with hills that'd knock out the best of us manages to be both enchanting and daunting. Well, a few months ago, before the Vancouver Marathon, I decided to suck up my balls and commit. I missed most of the early-bird price-cuts, so the $161 price tag as a late registrar hit hard. Now in hindsight, it was obviously worth it.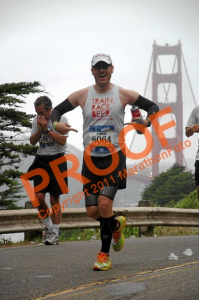 I took a couple of risks with this marathon, like a good Ginger always does. Firstly, I throttled back my training regime quite considerably since the Vancouver Marathon a few months ago. Between the two marathons I don't think I had a single LSD that felt both efficient and strong; none of my weekly mileages totalled more than 40 miles; and I was slipping off my strict diet of no sugars or excessive beer guzzling (oopsie poodles!). Secondly, I received a pair of Salomon EXO II WINGS TW SHORTS (review soon) that I wanted to give a good trial. I am always preaching, "never try anything new on raceday", because it can easily fuck with the system you've trained with, but I really wanted to try these out on a hilly, long brutal run. The San Francisco Marathon would be a perfect test.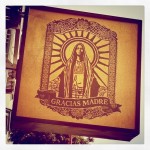 Both MileLongLegs and I travelled to San Francisco the day before the race in order to settle in, plan our morning attack, hit the expo (extremely organized and efficient, btw), and grab some grub at one of our favorite Mexican joints in the city, Gracias Madre. We hit the hay pretty early seeing as the race start was an EARLY 5:30am. Despite my normal pre-race anxiety and the added stress of feeling VERY underprepared, I got plenty of sleep and awoke fully rested at 4:30am. We brewed some VIA (my new favorite pre-race caffein boost), tried to down a couple bites of bagel (which I didn't realize had loads of cheese inside and would have spelled disaster to my tum tum had I finished it), and booked it to the start-line along the water on the Embarcadero.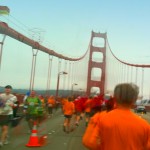 The race starting line was extremely well organized on the Embarcadero. Plenty of volunteers waiting to take your race bags, shuffle you into your correct waves, and get you started on-time. By the way, this was the very first big-scale race I've been a part of where the volunteers were strict about keeping you in your assigned waves. I saw many get turned away for trying to sneak in before they were supposed to. Props to you, SF Marathon, for doing what no other marathon has the balls to do: DISCIPLINE THE ASSHATS!
Before I had time to set my watch and shove the last of my gels into my new compression shorts, we were off! Even MORE props to the SF Marathon crew for getting us across the start-line within 60 seconds of our quoted crossing. I tell you what, when you are a big bag of nerves before a race, there's something settling about knowing you are in good hands and can trust the race organization. One less stressor I suppose. So many races do it wrong, that when one does it right, you can't help but get excited!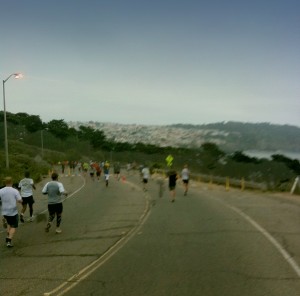 As soon as I crossed the start, it was time to focus and stick to my plan. I knew I wanted to take the first 13.1 miles extremely easy. These would prove the hilliest and most challenging miles according to race reports. Taking the first half at an easy pace would also allow me to store more energy and strength for the second half and especially those last few miles. Smart theory, Ethan. I kept a slow 8:47/mile – 9:30/mile pace for most of the first half, speeding up only slightly on any downhills or flats, and clipping along slowly on the steep climbs. I also changed my gel intake due to a lack of any real breakfast calories. 1 at mile 3, mile 6, mile 9, mile 14 and mile 20. It all worked. Even the Salomon compression shorts, which I was worried would chafe or cause some discomfort, kicked serious ass.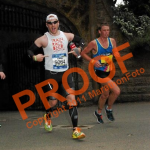 Let this paragraph be where I do nothing but gush about the beauty of running through San Francisco. From running along the Embarcadero in the morning fog; jogging through the smells emanating from Ghirardelli Square and Boudin Bakery; climbing the first hill at Fort Mason with a clear but distant view of the daunting Golden Gate Bridge; actually crossing beneath the magnificent, towering golden gates on foot; experiencing the race's first real downhill mesmerized by the view of Land's End; entering Golden Gate Park to the sound of thousands of spectators and half marathon finishers/starters; running around Stow Lake as memories flooded my mind of past visits to this exact location; being passed by the second half marathon elites down the hills of Haight; feeling a pop then excruciating pain in my right foot on the same hills of Haight; mustering enough strength to continue towards San Francisco Bay and the Bay Bridge; passing bands and cheering sections that rival any race I've participated in prior; getting teary-eyed as I realize I have less than a mile to run and my body hasn't suffered or given up on me; to finally crossing the finish line in a time far faster than I could have anticipated from a race with as many hills and challenges as the San Francisco marathon.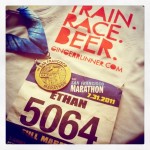 IN CONCLUSION
I thoroughly enjoyed the San Francisco Marathon. Hell, consider this review my love letter to the city and the race. They made the expo efficient and painless, the race was very well organized and staffed, the shirts are fuckin' stylish and the ONLY race shirt I might wear in public, the course was challenging and rewarding, and the entire experience was absolutely worth the hurt. Thank you SF Marathon for giving me the bar by which to compare every other race I participate in.
LIKED:
Beautiful course (traverses the entire city!)
Fantastic support/volunteers/organization
Awesome race shirts
Personalized bibs (every race needs this)
Nice social networking by race committee (twitter/facebook)
Plenty of post-race food and goodies
DISLIKED:
Rude elite runners passing me on second half marathon
Medal straps are tie-dye?? #UGLY
More mid/early race photographers needed
RACE SUPPORT: 10/10
RACE ORGANIZATION: 9/10
PRICE: 7/10
BONUS: 10/10 (spectacular views, weather, shirt, fast expo)
TOTAL: 36/40
TIME: 3:51:26
PLACE OVERALL: 1299/6002
PLACE IN SEX: 1067/3994
PLACE IN DIVISION: 185/671
Tags: asics, best, best shoes, better, course, elite, ethan newberry, first, first marathon, full, ginger, ginger runner, gingerrunner, half marathon, map, marathon, medals, newton, pictures, progrid, review, review san fran marathon, review san francisco marathon, san fran, san francisco, saucony, second half marathon, shirts, the SF marathon, TheSampler, training, Video, website