Now that my first marathon in 2 years is one week away, a feeling I'm faintly familiar with is creeping back into my consciousness: Fear. I'm sure we've all dealt with this obnoxious, inconvenient emotion at least once in our lives. Fear of the dark, fear of failure, fear of pooping our pants in a crowded mall just outside Nordstrom cause we can't find our mommies. You know, typical shit.
So what am I fearing? I'm worried that I'm not fueling for the distance properly; I'm worried that I'll hit the notorious wall well before the finish line and that I'll suffer the same consequences as my last marathon; I'm worried that I'll let myself and my months of training down. It's easy to let this fear take over and seep into my mind, but is that the best thing to let happen right now? Absolutely not.
So here's my plan: I'm going to take this fear and do my best to convert it to fuel. Rather than focusing on the negative aspects of what COULD happen – which I have no control over – I'm going to accept that whatever happens come race day is out of my control. I've done the training, I've prepared my body, and I'm ready to cross that finish line, grab a beer, and celebrate my personal victory.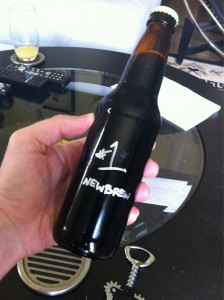 I think a big cause of my fear has been because I still haven't had a good 20 mile training run. My first attempt I ended up bonking pretty early and suffered unhappily through the last 5 miles. The second attempt was on an incredibly warm day, and while I thought I had hydrated properly, my body shut down completely and wouldn't let me go past mile 18. Fuck. I ended up walking 2 miles home. In pain. On the verge of passing out. Not good, lil ginger, not good.
So it's easy to see how I could be fearful of next weekends 26.2 mile attempt. But I absolutely cannot doubt my abilities. I will let this week of tapered runs and shorter distances build up my strength in prep for Sunday's race. I will eat appropriately and hydrate efficiently. I will turn this fear into pure, unadulterated racing fuel that's more powerful than any gel, protein powder, or power bar. This shit is gonna drive me from mile 0 to mile 26.2 in personal record time and carry me all the way to the bar after the race. I cannot wait to blow my own mind with my own Ginger Runner awesomeness next week. And I'm inviting you all along for the ride. I've already trained hard. Are you ready to race harder and party hardest? I know I am!